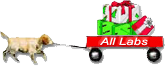 Make this your home for fetching the finest products and retrieving loads of valuable all Labrador Retriever information. Shop for the Lab, For the Lab Lover, For the Lab Home, and browse our Labrador Library to see why for the last 10 years we're
Your Leading Labrador Retriever Resource






Christmas Store

The holidays are just around the corner so now is the time to fetch the finest gifts for the Labrador Lover on your Christmas list. We have over 100 gifts $50.00 and under. Visit our Christmas Store.

For the Lab
Bedding
Coats
Collars and Leads
Dog Bowls
Feeding Stations
Spa and Grooming
Toys and Treats
Travel and Accessories

For the Lab Lover
Apparel
Cards and Giftwrap
Fine Accessories
Gifts and All Occasions
Jewelry
Kids Only

For the Lab Home
Artwork
Books
Garden and Outdoor
Home Furnishings
Kitchen Accessories
Pillows, Throws, and Rugs

Gift ServicesGift Boxes
Gift Certificates
Customer Service
We are not able to estimate any customs fees that might be required and will be the responsibility of the purchaser.erfiles/144/File/order_form.pdf" _fcksavedurl="/app/webroot/userfiles/144/File/order_form.pdf">
Order Form Download
|
Taxes
|
Customer Service
|
Gift Services
|
Delivery Information
Backorders
Shipping
|
Privacy & Security
|
Environmental Policy
|
Errors & Omissions
|
Finding Products
|
Guarantee & Return Policy
|
Your Labrador Tailor
|
Contact Us
|
FAQs
You Can Shop All Labs in Four Ways:
On the Internet at our online store 24 hours a day, 7 days a week.

By Phone: Call us toll-free 1-(877)-757-LABS (5227) or (540)-377-5560, Monday through Friday, from 10am to 5pm Eastern Standard Time. Outside the United States, please call Customer Service to place an order.

By Fax: Please print out and complete our order form, including your credit card information, and fax to (540)-377-6794. If a transmission problem occurs, please mark the second fax as "Possible Duplicate".

By Mail: Print out and complete our order form, include your credit card information or enclose your check or money order, and mail to:
All Labs, PO Box 128, Steeles Tavern, Virginia, 24476. Please do not send cash, as All Labs can not be responsible for cash sent via mail. Be sure to indicate size and color where appropriate. Please include your telephone number so that we can contact you if we have any questions about your order.
All prices are in U.S. dollars and are subject to change without notice.

| | |
| --- | --- |
| | Downloadable order forms are in PDF format. You will need to download and install a free copy of Acrobat Reader in order to view the order form. |
Payment:

We accept Visa, MasterCard, and American Express, as well as personal checks and money orders. Please make checks payable to
All Labs. Your name, address, check number, and phone number must be imprinted on your check. If the address on your check is a P.O. Box, please include your physical address as well. Please allow two to four weeks for orders paid by check. Submitting the correct payment will ensure prompt delivery.

We are required to collect sales tax on merchandise delivered to addresses in Virginia.

If you have any questions or comments about our products or services, please call toll-free 1-(877)-757-5227, Monday through Friday, from 10 am to 5 pm Eastern Standard Time. We will be happy to assist you. Alternatively, you may e-mail us at customerservice@alllabs.com any time.
Gift Cards: At your request, we will enclose a complimentary gift card with your order. Please specify the gift card information during your online check out or if using our offline order form, please fill out the gift card section.
Gift Boxes: To make your gift extra special, have us enclose them in our gift boxes. If you'd like us to do this, please order them in our online store and if necessary, specify during check out which items get gift boxed. If ordering with our offline order form, please add $5 beside each item that you wish gift boxed. Jewelry, collars, leashes, and most other soft goods can be gift boxed but unfortunately, some items cannot be. (such as extra large or heavy items and those being shipped internationally). Please contact customerservice@alllabs.com for more information.
Gift Certificates: Having a hard time deciding? All Labs gift certificates are the perfect gift for any Lab lover! You may order your gift certificate online, by phone or by printing off and completing the offline order form. You may either fax or mail the completed form to us for processing. Gift certificates are available in amounts from $25.00 and over, in $25.00 increments. Specify item number GCAL4438 and the desired value. If you would like us to fill in the recipient's name, your name, and a message on the gift certificate, please specify this when ordering. We can also leave the gift certificate blank for you to personalize in your own handwriting. You will not be charged our standard shipping and handling fees for the amount of your gift certificate. Instead, for each gift certificate in your order, please add $1.95 to the Additional Shipping and Handling line of your offline order form. We can enclose your gift certificate in a gift box for an additional $5.00.
Delivery Information:

All Labs makes every effort to ship in-stock merchandise within 48 hours. We use the shipping method best suited to each situation and most goods will arrive in 8 to 10 days from the date shipped. Because we deal with many individual artists and craftsmen, there are sometimes delays in restocking - we'll let you know in that event. Items ordered together may not arrive together. Please note: UPS and Federal Express do not deliver to P.O. Boxes, so we require a complete street address and phone number to insure delivery.

Occasionally we get a rush of orders, especially during holiday seasons, which may cause us to be temporarily out of stock on a particular item. We will send you an email right away to inform you of the status of your order. You will not be charged until we ship the item(s.)

Standard Shipping and Handling:

Shipping and handling charges are based on the merchandise total of each order shipped to a single address. Please apply the following shipping rates for each address to which your order is being shipped. Certain items require additional freight and insurance, including (but not limited to) fragile, oversized, or overweight items. The figures below apply to the continental USA only. For orders shipped elsewhere, please seeInternational Shipping below.

| | |
| --- | --- |
| Total Order | Add This Amount |
| Up to $20 | $6.99 |
| $20.01 – $50 | $9.99 |
| $50.01 – $70 | $12.99 |
| $70.01 - $100 | $16.99 |
| $100.01 – $120 | $19.99 |
| $120.01 - $150 | $24.99 |
| $150.01 – $200 | $26.99 |
| $200.01 and over | $28.99 |

(These figures for continental USA only. For other orders, please contact Customer Service.)

Express Delivery:

If you would like expedited shipping for your order, please select Three Day Delivery during the check-out process or call in your order before 12:00 noon Eastern Standard Time Monday through Friday. This upgraded delivery option is available on most in-stock items, with the exception of those that are drop-shipped, personalized, oversized or special-ordered. Your 3 Day Delivery Order will arrive within 3 business days after it leaves our shipping department. Please note: UPS and Federal Express do not deliver to P.O. Boxes, so we require a complete street address and phone number to insure delivery. If you have any questions about the timing of your delivery, please email customerservice@alllabs.com or call us at 877-757-5227.

| | |
| --- | --- |
| 3 Day Delivery* | Add $15.95 to Standard Shipping |

*Please note that express charges are nonrefundable.

International Shipping:

We welcome orders from outside of the continental US! Choose the Standard Shipping option during the check-out process and we will then calculate the additional shipping charges based on weight and destination. We will send you an email regarding the total additional shipping charges and will require an email of confirmation from youbefore we charge your credit card for the total amount and before we are able to ship your order.
We are not able to estimate any customs fees that might be required and will be the responsibility of the purchaser.



Holiday Delivery:

Due to the volume of orders placed during the holiday season, we must receive your order by December 16th to insure arrival by Christmas. You are welcome to place orders after that date, however we can not guarantee delivery by Christmas.

Our Commitment to Your Privacy

We appreciate your relationship and the trust you place in All Labs, and we are committed to respecting your privacy and thesecurity of your personal information. Our Privacy Policy, updated on June 29th, 2004, describes the information we collect and how we use it.

We always welcome your questions and feedback. For privacy-related issues, please contact us at:

All Labs, Inc.

PO Box 128

Steeles Tavern, VA 24476

Phone: 877-757-5227

Fax: 540-377-6794

Email: drawncurtain@alllabs.com

Contents:
Information We Collect
Using Information We Collect
Information We Share with Others
Your Options
Cookies and Pixel Tags
How We Use Email
Links to Other Sites
Updating or Reviewing Your Information
Security
Policy Changes
Questions or Comments?
Information We Collect

We may collect information (including name, address, telephone number, email address and, when necessary, credit card information) when you:
Place an order with customer service or through our web site
Return an item or make an exchange
Inquire about our services
Request a gift certificate
Request a catalog
Subscribe to our Email Newsletter
Participate in a marketing survey, promotion, or event
We maintain the data that you provide us, along with a record of your purchases, in a secure database. To best serve you, we may combine this information with data that is publicly available and data that we receive from other reputable sources whose policies meet the Direct Marketing Association's privacy standards.

We also gather information about how visitors navigate through our web site by using "cookies" and/or other online tools such as "pixel tags". This is similar to asking a sales clerk to hold onto your merchandise while you continue shopping. When you are ready to check out, your cookie identifies which selections of merchandise belong to you.

Using Information We Collect

At All Labs, we always want to provide you with the best possible shopping experience and fill your orders exactly as you've requested. In order to do this, we collect information that allows us to:
Process and track your order
Provide the services you request
Contact you about the status of an order
Send you promotional offers we believe will be of interest to you
Send you the All Labs Email Newsletter, if requested
Customize our communications to you
Provide information concerning products you have purchased
Improve our merchandise selection and customer service
Information We Share with Others

We contract with other companies to provide certain services, including credit card processing, email distribution, market research and promotions management. We provide these companies with only the information they need to perform their services and work closely with them to ensure that your privacy is respected and protected.

Be assured that we do not sell or share household-specific survey information or your email address. From time to time, we may make your name and postal address available to carefully selected companies whose products we believe will be of interest to you and whose privacy practices meet the Direct Marketing Association's privacy standards. If you prefer that we do not share any information with these companies, please email us at drawncurtain@alllabs.com

On rare occasions, we may disclose specific information when required by law to do so. We may also share information with companies assisting in fraud protection or investigation. We do not provide information to these agencies or companies for marketing or commercial purposes.

Your Options

We offer options as to the types of information you receive from us. If you prefer not to receive other communications from All Labs or if you prefer to receive them less frequently, please contact us at drawncurtain@alllabs.com . If you no longer wish to receive our email newsletter you also may contact us at the above address or unsubscribe using the link provided in each edition of the email.

If you do not want to receive mailings from other carefully selected companies, please contact us at:

All Labs Inc.

PO Box 128

Steeles Tavern, VA 24476

877-757-5227

Please be sure to provide us your exact name and address so that we can be sure to identify you correctly. Because we plan our mailings in advance, it may take several weeks for your request to become effective. If, due to human error, you continue to receive our communications, please contact us again and we will make every effort to correct the situation.

Cookies and Pixel Tags

A cookie is a small data file that is stored by your Web browser on your computer. Cookies enable you to place an order on our web site. They also allow us to enhance and personalize your online shopping experience, so that the information you receive is more relevant to you.

For example, we use cookies to:

Remember what items are in your Shopping Cart
Study how our customers navigate through our web site and which products they request in site searches
If you set your browser to refuse cookies, please call us at 877-757-5227 to place your order.

We also use pixel tags-tiny graphic images-to tell us what parts of our web site you have visited or to measure the effectiveness of any searches you may do on our site. Pixel tags also enable us to send you email in a format you can read and let us know when you have opened an email message from us.

We also may contract with other companies who use cookies or other online tools such as pixel tags to measure the performance of a marketing effort on our behalf. We prohibit these companies from using this information for their own marketing purposes or from sharing this information with anyone other than All Labs.

How We Use Email

When you provide us your email address, we may send you emails necessary to process your order or respond to a request. For example, after you place an order at AllLabs.com, you will receive an email confirmation.

It is our intent to send you promotional emails or our email newsletter only if you have agreed to receive it. Instructions on how to unsubscribe are included in each edition of the newsletter.

Links to Other Sites

Frequently we provide links on our web site to other sites we think you will enjoy. These sites operate independently of All Labs Inc. and have established their own privacy and security policies. We strongly encourage you to review these policies at any site you visit.

Updating or Reviewing Your Information

To update your customer information (name, address, telephone number and email address), please contact us at the address above. To protect your privacy, we will need to validate your identity before we update or review your information.

Security

We limit the information we provide to outside companies with whom we contract to only what they need to carry out their responsibilities. When you make a purchase, your transactional information is transmitted in an encrypted format and all transaction data is stored in a secure computing environment. No transmission of data over any public network such as the Internet can be guaranteed 100% secure however, the Fair Credit Act specifies that your credit card company can not hold you liable for more than $50.00 in fraudulent charges to your account.

Policy Changes

If our use of private information changes due to unanticipated situations, we will post these changes to our web site. We encourage you to review our private policy periodically.

Questions or Comments?

For questions, comments or assistance, we invite you to contact us at drawncurtain@alllabs.com.

All Labs may mail or include in shipments special promotional materials, however we maintain our primary catalog of products in an on-line format only as part of our commitment to reducing paper waste. We also strive to use packaging made from recycled material and to re-use boxes and packing materials when possible in the belief that our customers will appreciate and support these efforts.

All Labs makes every effort to avoid errors in pricing or product information. However, from time to time, we all make mistakes! If a mistake does occur, we reserve the right to correct it, and we apologize for any inconvenience it causes.

Perhaps you have shopped with us at a show or a special event and can not find online the product you saw in our display. If you don't see what you are looking for, e-mail us at customerservice@alllabs.com.. Specify the product by name, manufacturer, and description, and we'll do our best to get it for you!

Our Guarantee and Return Policy

In the unlikely event that you are not completely satisfied with your purchase, simply return the item(s) to us in their original and unused condition within 30 days of the receipt of shipment for exchange, replacement, or a full refund. We will refund shipping costs if the return is the result of our error. If your order is damaged in shipment, please hold the merchandise along with the packaging it came in, and notify us immediately. Personalized items, drop-shipped items, and special orders are not returnable. Please allow three weeks for returns and refunds to be processed.

To return merchandise to us, please:

Circle the item that you are returning on the front of the packing slip and indicate the return code according to the key provided.

Indicate the action that you request we take.

Pack the item(s) you are returning securely and include the packing slip.

Remove the mailing label from the bottom of the packing slip form and attach it to the package with clear packaging tape.

Ship the item(s) to us prepaid and insured. Please do not send any packages C.O.D., as we do not accept product returns shipped C.O.D.

How to measure your Labrador:

Neckline: Measure around the neck where the collar normally rests, without adding slack or inserting fingers. For slip collars, measure around the head at its widest point.

Topline: Measure your Labrador from the base of the neck to the base of the tail.

Chest: Measure the deepest circumference of the chest, which is typically right behind the front legs.

Round up to the next larger size if the measurement is near or over a given size. Also, round up to the next largest size if your Labrador has a broader chest, wider underside, or thicker coat.



Featured Article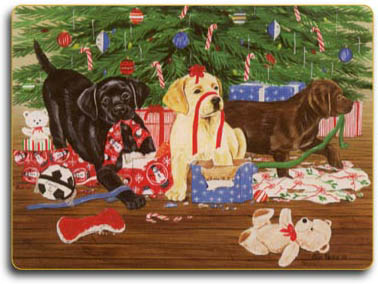 Can You Spot The Holiday Hazards?


It's easy for pets, especially Labradors, to get into trouble during the holidays. You may get
so
busy that you lose track of what is going on with your dog.
Click here to learn more about: "Can You Spot The Holiday Hazards?
"
Wanted: Models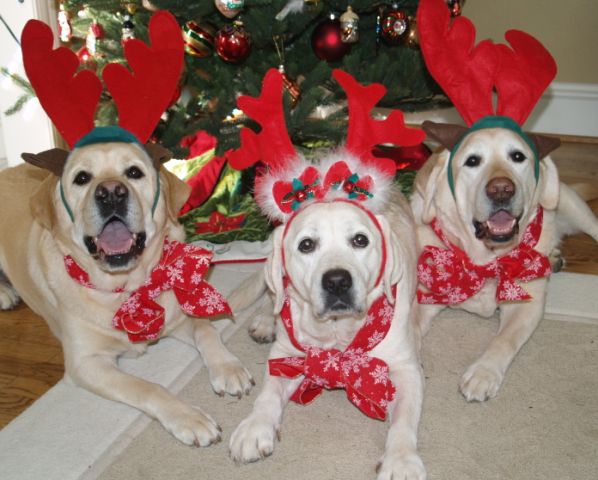 Would you like to see your Lab pictured here? Send us images of your Lab and we may include them on our Home Page!