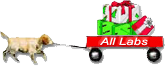 Make this your home for fetching the finest products and retrieving loads of valuable all Labrador Retriever information. Shop for the Lab, For the Lab Lover, For the Lab Home, and browse our Labrador Library to see why for the last 10 years we're
Your Leading Labrador Retriever Resource






Christmas Store

The holidays are just around the corner so now is the time to fetch the finest gifts for the Labrador Lover on your Christmas list. We have over 100 gifts $50.00 and under. Visit our Christmas Store.

For the Lab
Bedding
Coats
Collars and Leads
Dog Bowls
Feeding Stations
Spa and Grooming
Toys and Treats
Travel and Accessories

For the Lab Lover
Apparel
Cards and Giftwrap
Fine Accessories
Gifts and All Occasions
Jewelry
Kids Only

For the Lab Home
Artwork
Books
Garden and Outdoor
Home Furnishings
Kitchen Accessories
Pillows, Throws, and Rugs

Gift ServicesGift Boxes
Gift Certificates
Featured Labs
Hats Off to Ranger: Lab Named Top Dog in Search and Rescue by AKC

Say hello to Ranger, an eight-year-old Yellow Lab whose hard work in the field of Search and Rescue (SAR) has earned recognition from the American Kennel Club (AKC). Read how Ranger and his owner, Captain Kerry Foster of the City of Shreveport Fire Department Canine Search and Rescue Task Force, go about their rigorous and often hazardous work.
A Paws-On Approach to Teaching Children to Read

Whoever said you can't teach an old dog new tricks has never met Shyanne, a five-year old black Lab who teaches a few tricks of her own. Click to read about how she teams up with her owner, Rhonda Durham, to teach young children the joys of reading and build the foundation for a lifetime of literacy.
Whale of a Tail: Meet Tucker the Scat Tracker

Meet Tucker, a Lab who boldly retrieves what no Lab has ever retrieved before: a killer whale. Read how this amazing black Lab, partnered with The Center for Conservation Biology of the University of Washington, is working to conserve and protect the orcas found in Puget Sound.
A Tribute to Lakota

Please take the time to read this heart-wrenching tribute to a beautiful Chocolate Lab named Lakota and the Kirschling family-all of whom were tragic victims of the contaminated, toxin-adulterated pet food produced by Menu Foods. All Labs pays tribute to Lakota and to all the companion animals lost to this unfair and unnecessary fate highlighted in the recent pet food recall.
Marley & Me: Life's Lessons Learned through a Loopy Labrador

Marley & Me by John Grogan, is currently number five on the New York Times nonfiction bestseller list. Read more about how a crazy, 97-pound yellow Lab inspired the book that shines an honest and humorous light on life and love with "the world's worst dog."
The Legacy of a Law—Remembering Hunter

Samantha's eyes and ears tell her story. This image of Samantha, litter-mate and constant companion of 14-month-old black Lab Hunter, was taken shortly after the tragedy that took Hunter's life and devastated the Reid family. As a tribute to Hunter and a call for safety for pets across America, read more about this recent tragedy and let your voice be heard in support of legislation coming up for vote this month.
Running Rings around the Seals with Dr. Cooper

Meet Dr. Cooper, a black Lab who has earned his Ph.D. in seal research on the frozen sea ice of Alaska. Read all about how this four-legged professor teams up with Dr. Brendan Kelly of the University of Alaska Southeast to track and find ringed seals.
Leaping into the Limelight with Runner the Yellow Lab

This nine-year-old dapper dog named Runner has soaked up more than his share of the spotlight. Read how this amazing yellow Lab has been featured in commercials and newspaper ads and has earned the title of "Richmond's Newest Idol."
A Born Retriever

Meet Carbon Copy of Horn Creek winner of the 2006 National Amateur Retriever Trial in Klamath Falls, Oregon, sponsored by Nestle Purina. Read how this Lab and his handler, Frank Kashevarof, teamed up to come out on top in this competitive and demanding field trial to finish first and become National Amateur Champions.
A Different Kind of Doggie Paddle

The last dog days of summer are here, so what better time to discover more ways for you and your Lab to cool off. Wyatt Boughter and his black Lab, Stanza, found a shared love of the water and spend their spare time paddling. Read how Stanza and Wyatt take to the water to do a different kind of doggie paddle.
Flying High with Nestle the Chocolate Lab

While competing in a Big Air event, a simple comment by an announcer led Angie Jones to believe that her chocolate Lab, Nestle, might be perfect for a new competition—Extreme Vertical. Read how Nestle leaped to record setting heights and earned a place in the World Championships.
Zion to the Rescue

What appeared to be just another ordinary day for one yellow Lab and his owner turned into quite the opposite. Read how Zion managed to rescue 8 year old Ryan Rambo from Roaring Fork River in Colorado.
So What's the Buzz All About?

Two years ago we featured a spectacular yellow Lab that went by the nickname "Buzz". At that time, CH Aquarius Centercourt Delight or Buzz for short was the #1 Lab in the US for 2003 and with 7 Best in Shows to his name was set to take on the challenge of breaking the record for the most Best in Show wins for a Labrador Retriever which stood at 12. Join us at ringside now as we bring you up to date on the rest of the story!
A Labrador of Love Lost

For many of us, our dogs are our best friends. Their loyalty and unconditional love allow us a respite from the events of our day to day lives. But what happens when your best friend, who also happens to be your working partner—an integral part of your day to day dies tragically? Click here to read our tribute to one special K-9 officer and ambassador to school children-a black Lab named Jon-Jon.
A Buddy Who Beat the Odds

Congratulations go out to 'Simba' and Renate Van Allen for winning the AKC National Obedience Invitational this past January in Tampa, FL.With nearly 150 of the nation's top Obedience Trial Champion (OTCH) pointed dogs in the country competing for the coveted title, this was no small feat. Read how this seven year old yellow Lab and his owner work on keeping his head in the game.
A Buddy Who Beat the Odds

During this month of Cupid's arrows and love everlasting, we have an incredible story of friendship between a yellow Lab named Buddy and his owner Denny Linkes of Pennsylvania. Buddy proved to have the heart of a champion as the only three-legged dog to qualify for a National Championship at the Smoking Gun Preserve in Illinois. Click to read Buddy's story and how his friendship and determination live on in his descendants and in Linkes' heart.
Recovering New Orleans

Five-year-old yellow Lab Finn and handler Kathleen Connor could hardly imagine the devastation they would find when deployed to New Orleans for recovery work in the wake of Hurricane Katrina. Read more about how our Lab of the Month Finn, helped contribute to the slow recovery of the Big Easy.
The Need for Speed

For 9-year-old yellow female Lab Caddis and owner Dan Howitt of Portland, Oregon the need for speed is not only an athletic hobby but a way of life. Read more about how Caddis and Howitt have captured numerous speed climbing records and how they continue to train daily on the trails surrounding their home.
Life-Saving Labs

Labradors have always been a big part of Rhode Island resident Steven Goslee's life, however in November of last year his two Labs became much more than this man's best friends. Read more about how his yellow Labs, Jack and Lily saved his life after he suffered a debilitating stroke while hunting which left him paralyzed and stranded on a 15-degree Rhode Island night.
LOST' Lab Finds Stranded Stardom

Every week millions of Americans tune in to catch the next installment of the spine-tingling ABC-TV series 'LOST.' For 5-year-old yellow Lab Madison, however, nearly every day provides a brush with celebrity. Click here to read how Madison has pawed her way into the spotlight of this hit series playing 'Vincent.'
Guided by Friendship

Sometimes it takes the innate instincts of a Lab to understand an owner's needs. See how Toby, a four-year-old black American Pointing Lab instinctively acts as his owner's eyes and four-legged best friend every day.
A Local Hero and Loyal Lifesaver

For Brian and Ann Palormo, and everyone who knows them, their yellow Lab, Mangus isn't just another canine companion. He's a lifesaver, a confidante and a friend of a lifetime. Read more about how Mangus quickly and indelibly affects the lives of everyone he meets, even now in the twilight of his years.
Maxxi On The Move

As Labs age, it can be hard enough just managing to get around. Read more about how 15-year-old black Lab Maxxi has triumphed over old age and degenerative bone disease with a feisty spirit and a custom-fitted wheelchair.
Meet Finny: A Conservative Lab

Working hard to help preserve the habitats and livelihoods of other furry friends is all in a days work for 9-year-old black Lab, Fin. Read more about how Fin and handler Aimee Hurt of Working Dogs for Conservation work the world over to promote, publicize and further non-invasive animal conservation efforts.
Savannah, Super Retriever

Six-year-old black Lab, Savannah outstripped the competition to snatch first place in October's ESPN Super Retriever Series competition in El Campo, Texas. Read more about how she secured her title and how she and owner, Clint Johnson plan to defend it at the ESPN Super Retriever Series Championship in Hot Springs, Arkansas in June.
A Labrador for the Lobby

Miss your Lab while you're away on the road? Read more about how 3-year-old black Lab, Catie offers guests companionship and compassion as the Canine Ambassador for the Fairmont Copley Plaza Hotel in Boston.
Patrolling for Poachers

For patrolmen, poachers are a recurrent problem posing threats to wildlife and law-abiding hunters alike. Read how Bubba, a 3-year-old Chocolate Lab and handler and wildlife officer, Jeff Gier, protect and serve the people and natural wildlife of Florida by ensuring that hunting is fair game.
January 2005 -

You've heard of Batman, but have you heard of Batdogs? Read more about these two unique Chocolate Labs, Sage and Luna that retrieve bats killed by turbines on wind power farms in the name of research.
The Nose Knows

While Rudolph's unique nose may guide the way to holiday cheer, when it comes to mold, three-year-old yellow Labrador Quincy's nose knows the way. Click here to read more about how Quincy works with owner Frank Haverkate to sniff out toxic molds throughout homes and businesses in southern Ontario.
Drake: A True Gentleman's Gundog™

At only four years old, our October Lab of the Month already has an extensive resume that any dog would be envious of. Read more about how Drake of Wildrose Kennels, the official mascot for Ducks Unlimited and a member of the winning US Gundog Team in the Irish International Gundog Challenge, uses his press time to further the mission of water fowl conservation and superior hunting dog training.
Ivan the Agile

For Master Agility Champion Ophir's Ivan, agility is just part of his play. Read how Ivan, one of the top agility Labs in the US, and owner Greg Fontaine use their playtime to stay on top of their game.
Flying Frisbee Lab

What to do when you're already a successful and studly competitive flying-Frisbee-catching Lab? Why, start your own website, get your own pet driver's license, put out a personal ad and, like all celebrities, devote a large chunk of your time to charities. Read more about Rudy, our high-flying Lab of the Month.
Against Long Odds

The National Amateur Retriever Championship, held June 13th-19th, had a remarkable winner this year: 2004 NAFC-FC Chickamauga Choo Choo, an 8 year old Lab who overcame incredible odds just to make it to the trials. Read how Chicka reached the #1 spot over the impressive field of 98 top retrievers.
Pup for the Course

At Lexington Golf & Country Club, the most valuable employee, paws down, is a 2 year-old Lab named Abbey. Read how this certified geese-chaser, professional shadow and personal best friend of the Golf Course Superintendent has proven crucial to the course.
From Rescued to Rescuer

Rescued to Rescuer - It's always heartwarming to hear about a rescued Lab who goes from being unwanted to being cherished by a loving new family. For one very special Lab named Billy, his second chance at life went beyond "happy ending" to an elite career as a Disaster Search Dog.
A Doggone Good Citizen

A Doggone Good Citizen - At the Young at Heart adult day care center for mentally and physically challenged adults in NJ, rooms resound on Saturday morning with a chorus of Kiefer!!! Singing the praises of their favorite yellow Lab, patrons gather around her, sing songs to her, and all eagerly reach for a share of her fur. They shower her with love that she gladly returns, undoubtedly making Saturdays their favorite day of the week.
The Miracle Dog

The Miracle Dog - On a blustery day in March of 2002, three friends headed up a creek on the Wando River in South Carolina. Brad Cromartie, his dog Otis and friend Stuart Small were all avid outdoorsmen with a sense of adventure, so when they came upon a remote marsh island, they decided to beach their boat and do some exploring. When they discussed whether the boat should be pulled further up on shore, Brad remembers telling Stuart: that boat is up on the bank like a beached whale. When they returned an hour later, however, the boat had been swept off the shore and down the creek by the late afternoon current, lodging itself firmly on the opposite bank. Who was going to swim the 200 yards down the 40-yard-wide creek in 55-degree water to fetch the boat? Follow us as we track the incredible tail that ensued.
A Record for All Seasons

So What's All The Buzz About? - Becoming one of the top show dogs in the country involves a lot more than just being good looking. The most successful dogs must really enjoy the show ring and exhibit that something extra in spirit and personality. Our Lab of the Month for February, CH Aquarius Centercourt Delight, is not only the # 1 Lab in the US for 2003 but one of the most winning Labradors in dog show history. Join us ringside as we explore the story thats causing a lot of Buzz!
Arson: Cause for Paws

Arson Cause for Paws - Each year in the US alone, approximately one in four fires are caused by arson for a total of more than half a million fires each year. Property loss from arson exceeds an astounding $3 billion annually and the loss of human life is even more chilling. Over 700 lives are lost each year to arson and its the leading cause of death for pre-schoolers, accounting for 88 of every 100 deaths. Firefighters are killed on duty, innocent people suffer horrifying burns, families and small businesses are displaced and the average citizen bears the increasing cost of insurance that these crimes bring about. These statistics make accelerant detection canines an increasingly valuable tool in bringing criminals to justice. Follow us as we sniff out the story behind one Joyful Labrador Retriever who works diligently to assist arson investigators.
General Patton Commands the Field

General Patton Commands the Field - What are chances that a first timer to the National Retriever Championship will end up taking first place? Practically slim to none: of the few retrievers who qualify each year to participate in this, the top open field trial in the US, many are veterans whose owners and handlers feel very fortunate to make it back for another try. Most of those are thrilled to make it through several of the series or groups of tests at this notoriously tough event. They realize that it can take many years with an expertly trained, handled and focused dog to even make it to the final series. The 2003 National, however, saw a Five Star General- FC AFC Five Star General Patton, LM to be exact- arrive for his first attempt and command the field from beginning to end. Come to the line with us as we hunt down the story behind Pattons incredible victory.
Is there a Dog-tor in the house?

Is there a Dog-tor in the house? - When patients arrive at the office of Dr. Abbot Granoff, they usually offer a partial payment in advance-in the form of a dog biscuit! The Norfolk, Virginia psychiatrist has a very special associate, known as "Dr. Nugget," who prefers biscuits to traditional "dough" and offers a unique brand of therapy: listening without talking, warm fuzzy snuggling on the couch and even big wet kisses on the cheek. Lay back on the couch and read about this loving yellow Lab who takes his job as therapist very seriously.
Divine Intervention

Divine Intervention - While it's not unusual to see an angel or two on Halloween, it's not typical to see a dog dressed up in wings and a halo... and acting the part. For a yellow Lab named Buoy, the costume his family outfitted him in for the evening foretold his role as guardian angel. To a woman who was lost and freezing on that icy cold night in Washington State, he was not only a sight to behold but a savior as well. Click to read this heartwarming tale...of a Lab who took his costume to heart.
Nose Job

Nose Job - Tactical S.W.A.T. teams surrounded the house and placed the suspect under arrest. A petite woman and her four legged rookie partner were called in to search for narcotics. Had all their training and testing prepared the chocolate Lab for her first real life assignment? Tag along with us as we sniff out the story behind Great Lakes Murphy Brown, a hard working narcotic detection dog.
And the Winner is......

And the Winner is...... - And the winner is…..# 92, FC-NAFC Adams Acres Cherokee Rose! The 2003 National Amateur Retriever Championship held June 15-21 in McCall, Idaho has yielded a fine new champion. Ride along with us as we hunt down the story behind this year's top amateur-handled retriever.
Buddy, The Canine Aviator

Buddy, The Canine Aviator - Look, in the sky! It's a bird, it's a plane, no, it's Buddy, the hang-gliding Labrador Retriever! That's right, Buddy, our Lab of the Month, is an experienced canine hang glider with more flying time than many humans. Click here to read how Buddy became a sky Lab.
Service with a Smile

Service with a Smile - The two racers had many reasons to celebrate as they crossed the finish line together. Tricia and JB, aka "Jelly Bean," her 8 year old black Labrador Retriever service dog, had just finished first in their division of the 5K "Race for the Cure." Click here to read about this dynamic duo whose determination and resilience is nothing short of remarkable.
The UK's Coolest Canine

The UK's Coolest Canine - He is reported to be the canine equivalent of a cross between Brad Pitt, Einstein and Superman - he's got the looks, intelligence and the uncanny knack for performing tasks and lifesaving feats just when he's needed the most. This gifted yellow Lab has been filmed by more TV crews than he probably cares to remember. In addition to a string of awards, on February 21st 2003, he received the UK's Coolest Canine Award. Click here to read the Endal story.
Bone-efied Hero

Bone-efied Hero - In a race with time, Keno, a yellow Lab mix, was whisked up the mountain on a snowmobile towards an avalanche rescue mission. Keno's nose, usually topped with a dusting of snow, was desperately needed. Would he get there in time to save a life? Click here to read about this heroic Lab…you'll "dig" him!
Tops in Her Field

Tops in Her Field - As we say in the Versatile Lab section of our library, the meat and potatoes (or the duck and wild rice if you prefer!) of what Labradors were developed for was to be hunting companions. One of the toughest tests of their ability in the field, the National Retriever Championship, has yielded a splendid new champion for 2002 named "Zinger". Click here to read about this fine lady who's tops in her field!
A Winning Personality

A Winning Personality - Imagine dealing with the rigors of weekly travel, working outside in unpredictable weather conditions, having strangers constantly stare at you – looking you up and down and even rubbing their hands over you…all the while maintaining your manners and even tap dancing from the joy of it all! Who is up to this task any better than our pick for Lab of the Month: "Best in Show" and multiple "Best in Specialty Show" Champion Broad Reach Ruff Stuff, nicknamed Colby. Click here to read about this magnificent black Lab and his phenomenal career.
Extrasensory Pawception

Extrasensory Pawception - A Lab who nips at your hand might sound like one with very poor manners, but in this special case, such behavior is much appreciated. This is how "Tagert", our proud pick for Lab of the Month, signals his human partner, Jewl, that she about to have a seizure. Click here to read about this amazing team.
Black Lab Makes Incredible Swim Home

Black Lab Makes Incredible Swim Home - A Labrador Retriever going for a swim is normally no big news, unless…. it is a ten mile swim-to-shore, through one of the busiest sea-lanes in the world! Click here to read about the incredible journey that Todd, a two year old Labrador Retriever, made to find his owner, Peter Louizou, after falling overboard in the Solent.
Canine Heroine Roselle Guided Owner Safely from WTC -

Roselle is the recipient of the PDSA Dickin Medal – the animal equivelant of the Congressional Medal of Honor. On September 11, 2001, Roselle led her blind owner, Michael Hingson, down 78 flights of stairs to safety from Tower One of the World Trade Center. Click here to read this inspiring story.
Featured Article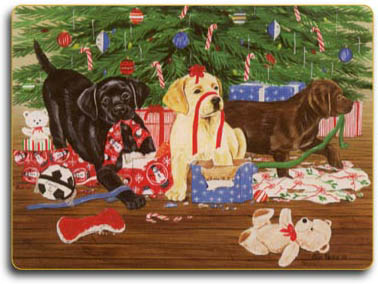 Can You Spot The Holiday Hazards?


It's easy for pets, especially Labradors, to get into trouble during the holidays. You may get
so
busy that you lose track of what is going on with your dog.
Click here to learn more about: "Can You Spot The Holiday Hazards?
"
Wanted: Models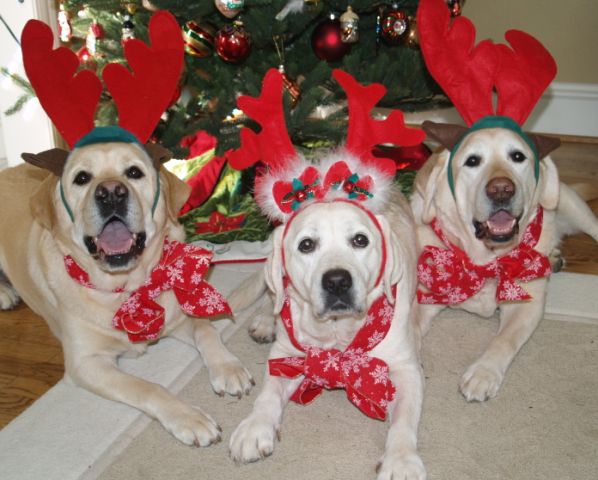 Would you like to see your Lab pictured here? Send us images of your Lab and we may include them on our Home Page!