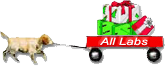 Make this your home for fetching the finest products and retrieving loads of valuable all Labrador Retriever information. Shop for the Lab, For the Lab Lover, For the Lab Home, and browse our Labrador Library to see why for the last 10 years we're
Your Leading Labrador Retriever Resource






Christmas Store

The holidays are just around the corner so now is the time to fetch the finest gifts for the Labrador Lover on your Christmas list. We have over 100 gifts $50.00 and under. Visit our Christmas Store.

For the Lab
Bedding
Coats
Collars and Leads
Dog Bowls
Feeding Stations
Spa and Grooming
Toys and Treats
Travel and Accessories

For the Lab Lover
Apparel
Cards and Giftwrap
Fine Accessories
Gifts and All Occasions
Jewelry
Kids Only

For the Lab Home
Artwork
Books
Garden and Outdoor
Home Furnishings
Kitchen Accessories
Pillows, Throws, and Rugs

Gift ServicesGift Boxes
Gift Certificates
Featured Artists
December 2007 - As the Holiday Season draws near, you need look no further than the work of Sher Schier for your special Christmas cards.

Read

how our Artist of the Month, Sher Schier draws inspiration from three wonderful Labs to create works of art that are sure to "wag your tail."

November 2007 - Meet Carolyn Whiting, founder and President of z becky brown, inc., this month's featured Artist and her beautiful Lab Ozzie.

Read

more about how she can help you showcase the beautiful Lab in your life with her one-of-a-kind, custom designed (by you!) handbags. Carolyn practically guarantees them to be great conversation starters!

October 2007 - Meet Bobby Wise, the co-founder of the company George, where the fashionable Lab is shopping this fall.

Read

about how Bobby and his late partner, Lyndon Lambert, created George to give the everyday pet owner a place to call home.


August 2007 - Meet Chris Chantland, a self-taught artist who honed his passion for drawing to become a highly sought after artist in the dog world. Read more of his story and how he came to be the official artist of the National Open and the National Amateur Retriever Clubs.

July 2007 - Take a minute to meet Stephen Pratt and Carl, a.k.a. Bird Dog, the handsome Lab who provides the face for Bird Dog Seasonings. Whether you're a mashed potatoes, fries, or even vegetable fan, Stephen Pratt, creator of the unique seasoning blend, swears you'll love his product. Read more how you can start using Bird Dog Seasonings for all of your recipes and cookouts this summer.

June 2007 - Josh Bach, pictured here, the literal head of Josh Bach Limited, where uncommon fashion is the order of the day, everyday. Designed and manufactured in New York City, Josh Bach products - from neckties to pens to boxers to leather accessories - are definitely a must for any dog lover. Read more about how one man finds inspiration in the uncommon, and how it has ironically led him to become one of the more common, well-known names in the neckwear industry.

May 2007 - Have you been searching for the perfect reward for your good dog? Look no further. Read more about Kim and Stuart Oliver, and their Labs Howard and Ruby, who inspired the couple to start their hemp dog products company, where all products are Lab tested and approved.

April 2007 - Karen Taylor with Magic, the prince of the house. Karen combined her love of dogs, her love of gardening, and incredible photography skills to create Paws In The Garden, a different kind of magic. Learn more.

March 2007 - It's a classic case of necessity being the mother of invention. Learn more about how Jennifer and Michael Kitchen's concern for their dog's warp-speed eating habits inspired their amazing, patent pending invention—the Brake-fast® bowl, it "slows the chow down."

February 2007 - The white coats of the Bainbridge Labs are sure to capture your eye, and they're not the only ones wearing a white coat. Dr. Joe Demichael has packaged more than good old fashioned veterinary advice. Read further how one Bainbridge Lab inspired a whole new prescription.

January 2007 - If you look in the dictionary under Barkology, you'll find the following entry: Barkology (n): The essence of dog. You'll also find a picture of ZoÑ' Lancaster, the creative genius behind Barkology's entire product line. Click here to read about this amazing Atlanta based company.

December 2006 - It was a chocolate Lab named Seeger that was the inspiration for Planet Dog, a one of a kind company that "thinks globally and acts doggedly." So take one small step for your Lab and read more about how this company has not only taken one giant leap for mankind, but for the canine-kind as well.

November 2006 - With Turkey Day just around the corner, what better way to start the holiday season then with some homemade goodies? Find out here how Adrienne and Jeremy Rohrs were inspired to create a place where not only the dogs, but their people want to hang around and sniff what's new!

October 2006 - If you love to travel and you love to travel with your Labs, then here's one magazine which is a must for your reading pleasure. Read how two Labradors inspired their owners to start a fabulous travel magazine designed to feature friendly accommodations for you and your family dog.

September 2006 - What's a guy named Guy doing with an art form dating back to the Italian Renaissance? This month's artist, Guy Chick, is an intarsia artist who turned a love of woodworking into his life's passion. Click here to read more about this man and his stunning mosaics of wood.

August 2006 - The American dream comes in all shapes and sizes—and times of the day. Click here to find out what caused Curt Todd to charge outside in his slippers on a 20 degree night. Chances are you or your neighbor may have one on your mailbox and if you don't you should!

July 2006 - Why would a black Lab be such an integral part of the history to one of the largest and most recognized wine producers in the eastern United States? Click here to read about Château Morrisette, one of the oldest wine producing families in the state of Virginia and their ties to the famous black dog.

June 2006 - "Each piece has its own unique set of priorities and as the artist I am bound to listen to each piece." These words come from this month's artist—Daniel Mark Duffy. This naturally gifted realist painter of landscapes and portraits has a unique gift of capturing the depth of his subjects—from streets in Italy to Labradors at water's edge. Stop and paws here to read more about his love for landscapes and Labradors.

May 2006 - If you are welcoming a new puppy into your home…celebrating the forever dog in your life…saying goodbye to a beloved dog companion…For Every Dog An Angel is the perfect way to remember that timeless connection to your special four-legged friend. Read about what inspired Christine Davis to write and illustrate this heart warming book.

April 2006 - How many people can say that they have chosen the path in life that puts them right where they want to be? For our Artists of the Month, that place is surrounded by high meadows dotted with Fleckvieh cows enjoying views that stretch for miles and contentedly making Iron Silhouettes. Click here to read more about how Harriet and Steve O'Rear have been finding inspiration for the past nine years at their home and studio—Iron Age Crafters Farm.

March 2006 - Have you been looking for that perfect painting of your Lab, the one that looks just like your loveable pup? Well look no further. Sandra Satz of Lexington Studios has created art that can be used and enjoyed for generations. Her "art with a function" is available in all shapes and sizes. Click here to read more about this month's artist and her creative "Objects d'Art."

February 2006 - Robin Kershner, Founder and CEO of Fox & Hounds Ltd., combined her love of style and dogs to create luxuriously unique collars and leads for the discriminating dog… and owner. Click here to read how Robin's search for the perfect collar led her to start what is now a multi-million dollar pet product and accessory company.

January 2006 - Have you ever walked out of a card store feeling frustrated because there wasn't that perfect card—the one that says just the right thing with just the right picture? Well look no further! This month's artist, Kim Crisler of Gifty Idea™ out of Austin, TX has created a line of greeting cards with just the right message! Click here to find out more!

December 2005 - This month's Artist knows first hand the power of destiny in shaping dreams and successful careers. Click here to read more about how Ruth Maystead's near fatal collision with an 18 wheeler changed her life and shaped her career in painting perfect portraits!

November 2005 - What Lab wouldn't want a dog day at the spa? Well, that's exactly what Candace Smith, our Artist of the Month determined when she started her high-end line of aromatherapy bath products for dogs. Read further to find out why it's making such a big splash!

October 2005 - We all know someone who has been diagnosed and forever changed by breast cancer. This month's artist, Elizabeth Frechette, creator of Precious Paws Inc., knows first hand the life changing effects of being diagnosed with this disease. Read how her Lab inspired her with hope throughout her whole ordeal.

September 2005 - Not many dogs have their own closet, but for Rachelle Rees McCarthy of Little Silver, NJ and her beloved Flat Coated Retriever Elmo, what better way to keep stock of the vast array of unique collars and leads created in Elmo's Closet? Check out Elmo's Closet for yourself.

August 2005 - Inspiration is at the heart of this family run company. Read how it's President and founder, Cari Wright was inspired to create C. L. Wright & Company out of a love for her two Labrador Retrievers.

July 2005 - Our July Artist of the Month, Jill Nazimek, creator and founder of Katie's Bumpers™, a unique dog toy company, grew up with Labs of all sizes. But it was a beautiful Landseer Newfoundland named Katie, who inspired her to venture into her new realm. See what lead Jill to leave a six figure salary in computer sales to designing the perfect fetch and float toy.

June 2005 - "So Many Legs, So Little Time." This artistic quote on the Old Leghumper label is bound to turn a few heads, if not for the attractive legs on the logo, then at least for the beautiful black Lab admiring them. Our Artist of the Month is actually a brewing company. Read how Thirsty Dog Brewing Company has concocted an array of award winning brews.

May 2005 - Discovering the Spirit of Having a Tail to Wag - Have you ever wished for a tail you could wag? Well Wendel Wirth has. The founder and creator of a tail we could wag, speaks reverently of the dogs that have graced her life. Join us as we share how Wendel embodies the spirit and lifestyle that her company offers to those who realize that life is not the same without a dog by their side.

April 2005 - Step Lively with One Foot Up - One Foot Up's founder and owner, Patti O'Day, proves that a little fabric and a lot of creativity go along way with her one-of-a-kind Picture Perfect handbags! Click here to see why they are picture perfect.

March 2005 - Sketches In Clay - Cecile Baird's company has gone to the dogs with her whimsical clay miniature creations. Each figurine is unique as they are all hand made and hand designed by the artist herself. See how she has sketched her way to success.

February 2005 - All In The Family - From one generation to another, read how "Happiness with a Labrador" turned into "Life's a Ball!"

January 2005 - Blizzard's Bones - Read how the founders of Twins 23 Inc. have made a "sweet smell of success" with Blizzard Bones.

December 2004 -On the Move With Dandy Design - For musicians, timing is everything and for Emily Cornelius, a member of The New Mexico Symphony Orchestra and creator of Dandy Design Inc.-A Dog-Gone Ornament Factory, time is a precious commodity these days as we approach the holiday season. Paws here to read how dandy designs continues on the path towards success.

November 2004 - Doggie and Decoys - Laura DeNardo's work is no decoy—her drawings and photography are the real thing! See why we fell in love with her work at first glance.

October 2004 - Lifestyles of the English Courtesy of Mango and Pickle - Sport shooting is not just a hobby for some living in England, it is a way of life. A way of life that Bryn Parry captures with brilliant wit and colorful images. Enjoy a preview of this humor portrayed in Bryn Parry's artistic work.




September 2004 - Hooked On Nostalgia - Some people may prefer a bed of roses, but for Laura Megroz the best seat in the house is on piles of wool that have been chosen for one of her many warm and cozy designs.

---

August 2004 - Lab Days of Summer - Have you ever been greeted by 53 of the most striking Labradors? Well, I have.

Read how one woman inspired a whole town to adopt 53 Labradors.

---

July 2004 - A Family Affair - As the Hatley website boasts, 'What do three testosterone-driven brothers from a Canadian country background with no actual skills do for a living after all else has failed? They form a cozy, cute, funky design company geared mainly at fashion forward but comfort-driven women whom they know nothing about. But of course!'

Click here to read more about Nick Oldland, one of the hunky brothers behind the Hatley design company, and his Lab inspiration for colorful, fashion-forward clothing and home accessories.

---

June 2004 - Playful Portraiture - Featured in galleries worldwide and collected internationally, the paintings of Patricia Buckley Gotwols put classic portraiture on its head (so to speak.) Click here to see how she playfully depicts the humorous alter egos of our favorite furry friends.

---
Featured Article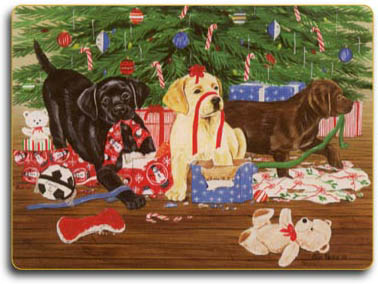 Can You Spot The Holiday Hazards?


It's easy for pets, especially Labradors, to get into trouble during the holidays. You may get
so
busy that you lose track of what is going on with your dog.
Click here to learn more about: "Can You Spot The Holiday Hazards?
"
Wanted: Models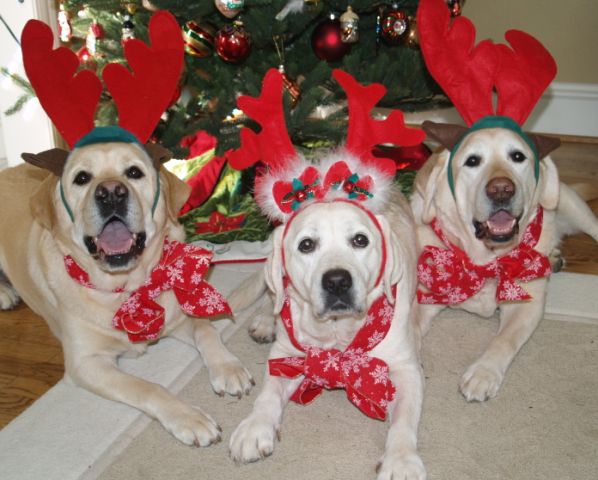 Would you like to see your Lab pictured here? Send us images of your Lab and we may include them on our Home Page!