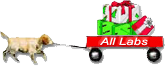 Make this your home for fetching the finest products and retrieving loads of valuable all Labrador Retriever information. Shop for the Lab, For the Lab Lover, For the Lab Home, and browse our Labrador Library to see why for the last 10 years we're
Your Leading Labrador Retriever Resource






Christmas Store

The holidays are just around the corner so now is the time to fetch the finest gifts for the Labrador Lover on your Christmas list. We have over 100 gifts $50.00 and under. Visit our Christmas Store.

For the Lab
Bedding
Coats
Collars and Leads
Dog Bowls
Feeding Stations
Spa and Grooming
Toys and Treats
Travel and Accessories

For the Lab Lover
Apparel
Cards and Giftwrap
Fine Accessories
Gifts and All Occasions
Jewelry
Kids Only

For the Lab Home
Artwork
Books
Garden and Outdoor
Home Furnishings
Kitchen Accessories
Pillows, Throws, and Rugs

Gift ServicesGift Boxes
Gift Certificates
Can You Spot The Holiday Hazards?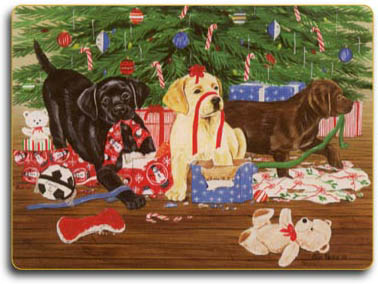 It's easy for pets, especially Labradors, to get into trouble during the holidays. You may get so busy that you lose track of what is going on with your dog. In addition, many gifts, decorations, and holiday foods pose dangers to them. Be aware of the extra hazards around the holidays and pay attention to what your Lab is doing.
From a behavior standpoint, holidays upset the normal schedule for dogs as well as for humans. This can mean new people coming into the household, children visiting, and just more hustle and bustle. All of that can be very stressful for your best buddy. Try to reduce this stress on your Lab by making every effort to maintain his daily routine. Keep the amount and timing of your Lab's food, the frequency and duration of the exercise routine and the amount of attention your Lab receives about the same during the holidays as the rest of the year.
Set aside a quiet room or favorite spot where your Lab can escape from the holiday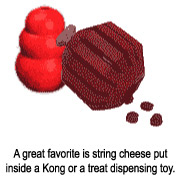 parties, if need be. Invest in some toys that foster their problem solving abilities and provide a reward. These types of toys are great for calming dogs that suffer separation anxiety and are especially useful at Christmas- 'when you are opening your presents, your Lab can be opening something too.
Lab owners tend to have a good handle on what causes their dogs' stress, however, many may not be aware of how deadly the temptations during the holidays are for their loved ones. In general, treat your Lab the same way you would handle a child. Stay alert to the seasonal hazards.
Keep your holidays safe, healthy, and happy, and show your Lab that you CARE with the following tips:
Consider and anticipate:
Pick dog-safe ornaments. One Labrador tail swipe against the Christmas tree can cause glass ornaments to fall and shatter, leaving glass shards on the floor that can cut your dogs' foot pads or cause internal bleeding if swallowed. Use loops of thread or ribbons to hang ornaments instead of metal hooks, which don't keep ornaments in place as securely.
Stay away from the urge to use bubbling lights. Bubbling lights are filled with methlene chloride and can be mildly toxic.

Snow Globes are filled with ethylene glycol, also known as antifreeze. If a snow globe is broken, your Lab may be exposed to this deadly substance.
Prevent tree water from becoming an auxiliary water bowl. Pinesap from the tree mixed with dangerous fertilizers make the water poisonous to your Lab. Stagnant tree water can also harbor

bacteria and cause nausea and diarrhea. Try putting a "scat mat" or a pet barrier in front of your tree to keep your dog from nosing under the tree to drink the water. Vacuum fallen pine needles around the tree frequently. If swallowed, sharp pine needles can puncture your Lab's intestines.

Display candles on high shelves and use fireplace screens. Both can be fire hazards if left unattended.
Place holiday plants out of reach. Contrary to conventional wisdom, according to the American Veterinary Medical Association, poinsettias don't present a poison hazard. They do cause gastrointestinal distress though. On the other hand, mistletoe, especially it's

berries, are highly toxic, while holly berries and leaves are moderately toxic. Christmas tree preservatives, balsam, pine, cedar, fir and snow flocking are all low toxicity.
Watch your potpourris. Some dogs will try to drink liquid potpourris, which contain potentially harmful essential oils that can cause stomach upset, damage to the central nervous system and chemical burns to the skin.
Be aware of bread dough. If a dog eats unbaked bread dough, the dough continues to rise inside its stomach, causing severe abdominal pain, bloat, vomiting, disorientation and depression. Many times the only remedy is surgical removal of ingested dough.
Know the dangers of grapes, raisins, and macadamia nuts. Some dogs are allergic to grapes and raisins, and if they eat a large amount, can suffer kidney failure. Macadamia nuts can cause vomiting, disorientation, stomach pain, and muscle stiffness or weakness in dogs. These aren't items you want to leave out on your coffee table.
Avoid:
Avoid the temptation of sharing the Thanksgiving or Christmas feast. The number one problem during the holidays is that of dogs eating food they shouldn't eat. Poultry skin, fat trimmings, rich gravies, buttery sauces, onions and black olives can make a dog seriously ill,

and can cause a condition called pancreatitis. Pancreatitis is where the pancreas becomes inflamed. The effects can range from mild to severe.
Never use edible ornaments or decorations, such as popcorn, gumdrop garland, or candy canes that might tempt a hungry dog. Also, commercially manufactured food garlands may contain paint or toxic preservatives.


Don't put your Lab at risk of strangulation by tying a ribbon or bow around his neck. Bored, anxious, or merely curious dogs may choke on them. Buy him a holiday-themed collar instead.
Avoid using tinsel, which can cause gastrointestinal blockage if swallowed.
Angel hair may seem harmless, however, it is quite deadly as it is made from spun glass.
Remove and secure:
Secure larger trees to a wall to prevent tipping, and use a screen around the base to block access to electrical cords and gifts.
Ask your hardware store about a Ground Protection Fault (GPF) plug for your tree lights. If a string of lights is chewed, this can prevent electrocution by cutting off electricity to the plug.
Put away toys after children open them. Small plastic and rubber parts are common causes of choking and intestinal blockage in dogs. Wherever there is a child's toy, there are batteries. If ingested, the corrosives in them can cause ulceration to the mouth, tongue and remainder of the gastrointestinal tract.
Protect your Lab from himself, by making sure garbage cans are firmly closed and out of sight. Labs are notorious for getting into garbage cans which can contain; aluminum foil, roasting bags, skewers, bones, cellophane, candy wrappers, and moldy food. Such hazards can cause gastrointestinal problems including blockage and bleeding. Some kinds of mold can grow tremorgenic mycotoxins, which can cause seizures or tremors if ingested.
Stow chocolate candy, baking chips and especially bakers chocolate out of reach. Large amounts can cause abnormal heart rhythms and nervous system malfunction, even death. Eating even small amounts can cause vomiting and diarrhea. The culprit in chocolate- theobromine, is a compound similar to caffeine. It can be lethal to dogs because they metabolize it slowly. The toxicity depends on the type of chocolate and the dose of theobromine it contains. Unsweetened baking chocolate contains almost seven times more theobromine than milk chocolate.
·
Don't leave alcoholic drinks unattended. An ounce of alcohol can poison a young puppy.
Enjoy:
First and foremost, enjoy the holiday season with your four-legged friends. Be sure to take lots of pictures and videos. By following these tips you'll be able to enjoy the holidays in the pleasant surroundings of your home rather than in an emergency clinic.
What to Do
Keep contact information for your veterinarian, an after-hours emergency veterinary clinic, and the ASPCA Animal Poison Control Center in a visible place, like the refrigerator, especially during the holidays.
Call the ASPCA's Poison Control Center if you suspect your Lab has ingested a toxic substance. Veterinary professionals staff the center hotline 24 hours a day. The charge is $45 consultation fee per case, to cover its costs, no matter how many calls are made. Keep these numbers handy:
· (900) 680-0000 (fee charged to phone bill)
· (888) 426-4435 (fee charged to credit card) or visit their Web site: www.aspca.org/apcc
Calling your veterinarian first is almost always best since first-aid instructions, such as inducing vomiting with hydrogen peroxide, can be given over the phone. You should only induce vomiting when you dog has ingested a non-caustic or non-corrosive material, such as human medications, antifreeze or rat poison.
Hydrogen Peroxide 3% can be used safely to induce vomiting rather than salt or Syrup of Ipecac. Use one teaspoon per 20 pounds (or approximately 1 Tablespoon for a full-grown Lab) to a maximum of 3 to 4 tablespoons. The Hydrogen Peroxide will fizzle in the stomach and trigger upset.
If there are neurological signs, vomiting should not be induced because your dog may aspirate or choke as they are trying to vomit. Never induce vomiting once symptoms appear, get your dog to a vet immediately. Also, if you suspect ingestion of something corrosive, do not induce vomiting. Take the container with you to the vet if you can, as treatment depends on the toxin. Milk of magnesia can absorb poison, but let your vet decide what is best.
Veterinarians are usually familiar with over-the-counter medicines, such as aspirin, acetaminophen (Tylenol), ibuprofen (Advil), and/or rodenticides. Ingestion of prescription medications or known toxins almost always requires you to call poison control. With toxins, remember dose-per pound is critical. If you are unaware of what your Lab ate and symptoms have begun, you don't want to mess around with seizures. The priority is to stabilize your dog, so don't waste time on the phone - get your dog to your vet!
For More Information:
Other websites with advice on avoiding winter hazards:
· The American Veterinary Medical Association.
· The Humane Society of the United States.
· The Humane Society recommends keeping a pet first-aid kit and manual readily available. The Humane Society in conjunction with the American Red Cross offer a 140-page first-aid book called "Pet First Aid: Cats and Dogs." It's available for $12.95, plus shipping and handling. An order form can be found on their website.
Featured Article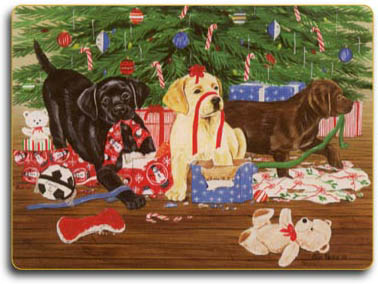 Can You Spot The Holiday Hazards?


It's easy for pets, especially Labradors, to get into trouble during the holidays. You may get
so
busy that you lose track of what is going on with your dog.
Click here to learn more about: "Can You Spot The Holiday Hazards?
"
Wanted: Models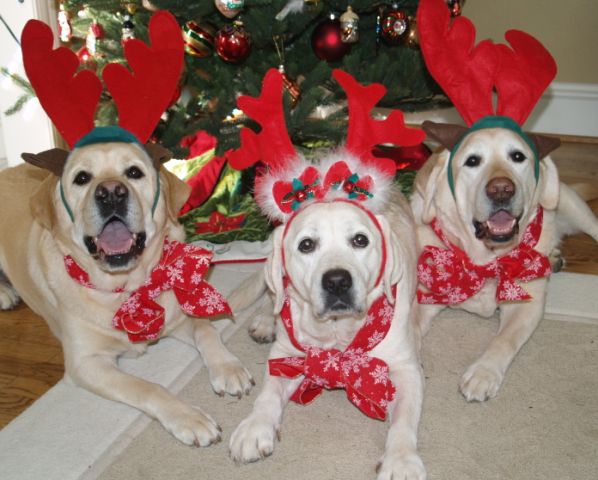 Would you like to see your Lab pictured here? Send us images of your Lab and we may include them on our Home Page!