Christmas Store

The holidays are just around the corner so now is the time to fetch the finest gifts for the Labrador Lover on your Christmas list. We have over 100 gifts $50.00 and under. Visit our Christmas Store.

For the Lab
Bedding
Coats
Collars and Leads
Dog Bowls
Feeding Stations
Spa and Grooming
Toys and Treats
Travel and Accessories

For the Lab Lover
Apparel
Cards and Giftwrap
Fine Accessories
Gifts and All Occasions
Jewelry
Kids Only

For the Lab Home
Artwork
Books
Garden and Outdoor
Home Furnishings
Kitchen Accessories
Pillows, Throws, and Rugs

Gift ServicesGift Boxes
Gift Certificates

Captivate your nose (and off-set some of that wet dog smell!) with this wool flannel pillow filled with fragrant balsam fir. The red and black...

These dapper Labs are decked out in bandanas and ready to decorate the bed or that choice corner chair. Created in 100 percent wool needlepoint...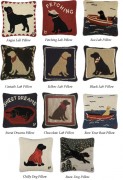 An attractive assortment of hand-hooked Lab Pillows to add a unique flare to any room. Due to the hand made nature, please allow 4 weeks for delivery...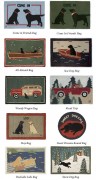 New to our store are these attractive 2" x 3" Hand-Hooked Lab rugs. Please allow 3 weeks due to the hand made nature of this product.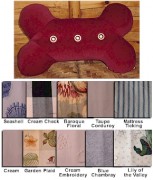 Terrific for your back or neck, or as beautiful bolster pillows. Mix and match several on a couch! Decorated with 3 buttons and measuring 12 x 18. ...

Count Labs, not sheep, when you snuggle down under this soft, comfortable quilt. Colorful fabrics and playful Lab appliques reverse to a...

These charming black Labs will beckon you to bed with their goodnight kisses. Designed to perfectly pair with the patchwork quilt, these 100...

Colorful fabrics and playful Lab appliques reverse to a complimentary plaid on this soft, comfortable throw. Measuring 60 X 50, its constructed of...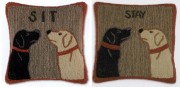 Whether they're sitting or staying, these Labs are a beauty. Hand-hooked, measures 18" square.