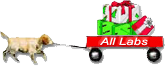 Make this your home for fetching the finest products and retrieving loads of valuable all Labrador Retriever information. Shop for the Lab, For the Lab Lover, For the Lab Home, and browse our Labrador Library to see why for the last 10 years we're
Your Leading Labrador Retriever Resource






Christmas Store

The holidays are just around the corner so now is the time to fetch the finest gifts for the Labrador Lover on your Christmas list. We have over 100 gifts $50.00 and under. Visit our Christmas Store.

For the Lab
Bedding
Coats
Collars and Leads
Dog Bowls
Feeding Stations
Spa and Grooming
Toys and Treats
Travel and Accessories

For the Lab Lover
Apparel
Cards and Giftwrap
Fine Accessories
Gifts and All Occasions
Jewelry
Kids Only

For the Lab Home
Artwork
Books
Garden and Outdoor
Home Furnishings
Kitchen Accessories
Pillows, Throws, and Rugs

Gift ServicesGift Boxes
Gift Certificates
Bone-efied Hero

by Ellen English
It should have been a fairly quiet day at work for Keno, a certified avalanche dog on the job at
Fernie Alpine Resort
in British Columbia, near the Alberta border in Canada. It was December 20, 2000. -the day before the ski area opened. Even though there were plenty of employees preparing for opening day, there werent the throngs of skiers and snowboarders who would soon descend upon the resort for the season. Ski patrollers were working to mark unstable areas as closed due to unusual snow pack conditions. While checking the chairlifts, 20-year-old lift operator Ryan Radchenko mistakenly skied into a closed area where he was swept away and buried almost 2 meters deep by an avalanche. Fortunately, some of the ski patrollers witnessed the accident and radioed for help right away. Unfortunately however, he was not wearing a transceiver, which can help rescue personnel locate someone buried in the snow. His only chance of being found in time was an avalanche dog.
After a 20 minute snowmobile ride, Keno arrived on the scene and immediately began to search with his owner and handler Robin Siggers, a snow safety supervisor for Fernie. Working among the ten rescuers who were shoveling and probing the area, Keno dug down about 30cm and yanked a glove out of the snow, says Siggers, we followed his arm down and uncovered his face. He was alive! The team quickly dug out the rest of Radchenko's body. By the time the skier was exposed to air again, about 25 minutes had passed. " He was semi-conscious and was quickly revived," Robin explains. Ryan was treated at a local hospital and released that day, becoming the first-ever Canadian live rescue by an avalanche rescue dog. Siggers says Keno was rewarded with a big steak, cooked rare. When asked what his usual reward is, Robin says that his dog likes to play tug of war or fetch with his Kong toy. He also loves to be chased!
Seeking out human scent, the dogs can cover a 100-square-meter patch of snow in 15 to 20 minutes. That would take 20 humans with probes more than four hours. Dogs use their incredibly sensitive noses to scan for human scent that diffuses up through the snowpack. When a trained avalanche rescue dog finds a potential scent source, he rams his nose down into the snow and may begin digging to investigate the strength of the scent. He will work down or laterally to find the strongest source. His handler must be able to read his dog in order to recognize the difference between investigative behavior and an indication of a body. It is not uncommon for dogs to find secondary sources of human scent, such as gloves, and give a weak or vague indication. They are trained, however, to focus on finding the primary source and upon doing so, may begin to whine or bark. They will then dig furiously in an effort to uncover the person. Rescuers are equipped with 8 foot poles to probe the snow, which can help locate the victim (and can help release scent for the dog to follow) as well as shovels to faciliate the digging.
Robin acquired Keno as a puppy from a fellow dog handler. Kenos father was a Lab/Collie mix and his mother, a chocolate Lab, did avalanche work. When asked about the unusual name, Siggers explains that his son, 3 years old at the time, named the dog after a favorite cartoon character. Robin trained Keno through CARDA and he was validated by the age of 2. A typical day for Keno begins at 7 a.m. as he and Robin head to Fernie and ride the chairlift up to their station. Keno gets to run around a bit and stretch his legs, before settling into a cozy, straw-lined kennel to wait for his next assignment. There is often a training session involving a real person (safely) buried to simulate a real search scenario. Keno, who wears a vest identifying him as a search dog, is given the command search to begin work. In fact, as we were interviewing him one day, Robin explained that he had to go- they've buried someone for us and she won't want to stay down too long! At the end of his shift, Keno may ride the lift back down the mountain or, depending on the conditions, run down the 2-3 kilometer long slopes.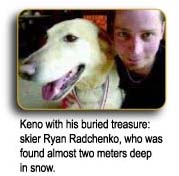 Keno was awarded
Service Dog of the Year
at the 34th annual Purina Animal Hall of Fame Ceremony held last year at the Liberty Grand entertainment complex in Toronto, Ontario. Initiated in 1993, the service dog award is usually given posthumously to a police dog that dies in the line of duty. Keno, however, was very much alive and delighted to be at the ceremony where he was presented with a heros medal. Robin and Ryan were also on hand and Siggers received a plaque as well as a hand-painted portrait of Keno. Radchenko had already received the greatest gift of all-a second chance at life. Although avalanche search dogs are not trained to find a particular person, perhaps Keno had remembered Ryans words from the previous summer, when the lift operator did carpentry work at the resort with Siggers. Ryan repeatedly told Keno, " you'd better get a good sniff in case you have to find me someday!
Tail End:
What might seem like endless hours of fun and games to an avalanche rescue dog, is actually part of a complex training regimen designed to socialize the dog, build their stamina and train them for serious work. A Labrador Retriever can make an ideal avalanche dog because of their inherited desire to retrieve. Instead of retrieving birds, however, their natural instinct is redirected to retrieving humans.
According to Sandy Bryson, author of the book Search Dog Training as well as several articles on the subject, part of the story is the dogs drive and training to alert when he recognizes target human scent. The other part of the story is the partnership between handlers and working dogs, a partnership distinct from the fawning warm fuzzies typically seen between pet owners and their pets.
For skiers, snowboarders, snowmobilers, and snowshoers who plan to go off trail(as well as mountain climbers), many avalanche-prone areas now require the wearing of electronic transceivers or beacons to assist in finding avalanche victims. Not everyone does, however, and even with latest and greatest avalanche gear (such as special vests, floats and balloons), trained dogs are still a critically valuable resource.
CARDA
For large mountainous areas that receive significant snowfall each year, sometimes 600 inches or more, avalanches are an unavoidable hazard. Literally tons of snow accumulate and, depending on the conditions, can become quite unstable. The density of the snow, the terrain and weather conditions combine to precipitate an avalanche and if youre in its path, you're in the path of a killer. An average of ten people per year lose their lives in Canadian avalanches alone. The Royal Canadian Mounted Police (RCMP) canine units are trained in avalanche rescue, but because their primary responsibility is law enforcement, they are generally located in urban areas. Consequently, it is often volunteer units who are positioned to respond in the outlying ski areas. The Canadian Avalanche Rescue Dog Association, CARDA, founded in 1978, is made up of volunteers who have passed an intensive training program. CARDA is dedicated to saving the lives of avalanche victims by maintaining a network of efficient search and rescue dog teams who are specially trained to locate people buried in snow.

Properly trained avalanche search and rescue (SAR) dog teams can be much more efficient than SAR teams consisting of strictly human searchers. Dog teams can search a much larger area in much less time than a probe line of searchers which often takes several hourscritical hours at a time when minutes can mean the difference between a body recovery and the recovery of a live person. It is believed that the Swiss Army started the first organized effort to train dogs to rescue victims buried in avalanches in the early 1930s. According to CARDA, their training program was initially patterned after the German Berghwacht dog program with which they currently maintain an exchange program. A certification Standard was developed in conjunction with the Royal Canadian Mounted Police, Parks Canada, and the Provincial Emergency Program of BC (British Columbia). CARDA currently has 34 validated teams in place in BC, Alberta, and the Yukon,and an additional 8 teams which are still in training.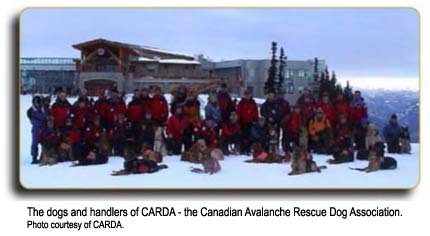 What it takes:
An avalanche rescue dog must be intelligent, have a good thick coat, lots of stamina, and a high level of natural retrieving and searching instincts. The Dog Handlers must be registered with the Provincial Emergency Program (PEP)in BC (British Columbia), be an active member of a local mountain search and rescue team and hold a valid Standard First Aid Certificate, as well as a minimum of a Canadian Avalanche Association (CAA) Level 1 Avalanche certificate. Besides being be a strong backcountry skier, the handler must also be skilled in mountaineering, land navigation, avalanche route selection, snow analysis, avalanche search strategy and rescue management. Obvious, but critical nonetheless, is the ability to handle the dog. This requires the ability to train, motivate and read the dog (learning the body language and behavioral tendencies of the search dog.) Some basic veterinary first aid is necessary as well. In areas that transport dog teams via helicopter, it is critical to learn helitac-the safety issues relating to helicopter travel with a search dog. Some members also have training in advanced medical techniques and avalanche forecasting.
Training and testing is very intensive and rigorous and dog teams generally train for 2 years before they are ready for certification. Their training must continue year round to keep the team sharp, including summer training, which might consist of wilderness searching, tracking, agility and regular obedience training sessions. The PEP certification standards outline the testing procedures for avalanche dog teams in BC. SAR dog teams must be validated annually during CARDA courses. The dogs search skills are examined by the RCMP police dog service or their designate. The dog handlers mountaineering skills are examined by other agencies such as Parks Canada Alpine Specialists, or a member of the Association of Canadian Mountain Guides (ACMG ). Instruction during the courses is provided by RCMP, Parks Canada, and CARDA personnel.
The dog handler is tested in a number of areas unique to avalanche search and rescue:
1. Searching snow avalanches with probes
2. Searching snow avalanches with electronic transceivers
3. Ski mountaineering
4. Snowpack structure
5. Avalanche terrain and route selection
6. Rescue
Additionally, each team will be tested in the following areas:
1. Obedience
2. Agility
3. Retrieving
4. Searching snow avalanches with the dogs for live victims as well as for articles
5. Transporting/travelling with search dogs
All of these qualifications combined are necessary to ensure the most professional service possible in the search for avalanche survivors. Reliability is a critical issue in avalanche detection. Ski areas have liability issues that necessitate the high standards which dog teams must meet to be certified.
Many CARDA teams are in place in various ski areas, heli and Snowcat skiing operations, as well as in various towns in the mountainous regions of western Canada.
Click here to go back to Lab of the Month
Featured Article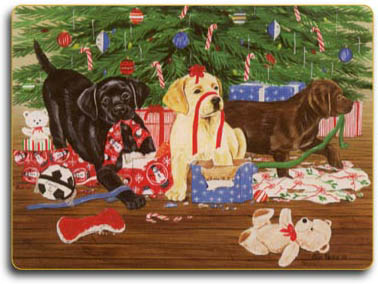 Can You Spot The Holiday Hazards?


It's easy for pets, especially Labradors, to get into trouble during the holidays. You may get
so
busy that you lose track of what is going on with your dog.
Click here to learn more about: "Can You Spot The Holiday Hazards?
"
Wanted: Models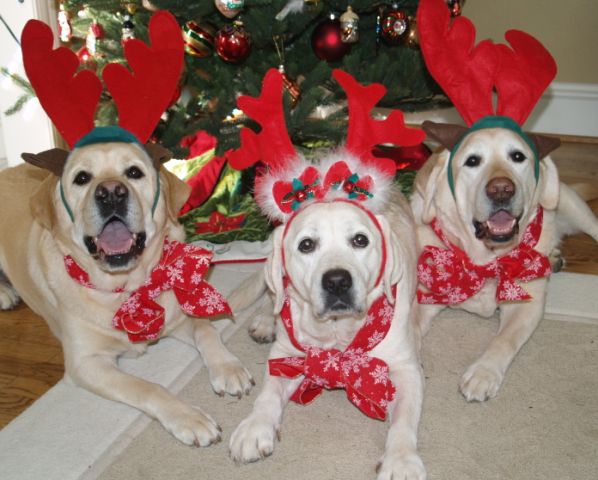 Would you like to see your Lab pictured here? Send us images of your Lab and we may include them on our Home Page!