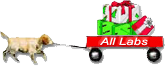 Make this your home for fetching the finest products and retrieving loads of valuable all Labrador Retriever information. Shop for the Lab, For the Lab Lover, For the Lab Home, and browse our Labrador Library to see why for the last 10 years we're
Your Leading Labrador Retriever Resource






Christmas Store

The holidays are just around the corner so now is the time to fetch the finest gifts for the Labrador Lover on your Christmas list. We have over 100 gifts $50.00 and under. Visit our Christmas Store.

For the Lab
Bedding
Coats
Collars and Leads
Dog Bowls
Feeding Stations
Spa and Grooming
Toys and Treats
Travel and Accessories

For the Lab Lover
Apparel
Cards and Giftwrap
Fine Accessories
Gifts and All Occasions
Jewelry
Kids Only

For the Lab Home
Artwork
Books
Garden and Outdoor
Home Furnishings
Kitchen Accessories
Pillows, Throws, and Rugs

Gift ServicesGift Boxes
Gift Certificates
Buddy, The Canine Aviator
By Regan Michelle White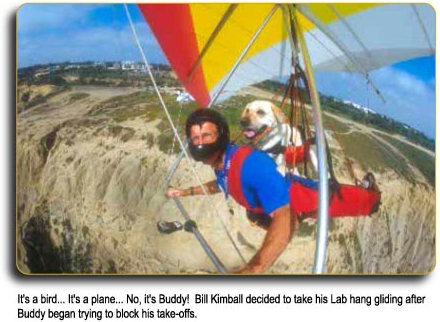 Since 1975, Bill Kimball has been taking to the skies as an avid hang glider. For the past eight years however, more often than not, Bills silhouette can be found paired with one of a more canine kind, tracing lines across that background of blue. Buddy, Bill Kimballs eight-year old Lab, has nothing short of demanded that he too learn to fly the friendly skies surrounding San Diego. Buddy's immediate interest early on was apparent. Within the first 3 to 4 months of my having him he didn't want me to take off, Bill remembers. He'd run up and down the ridge chasing me and barking.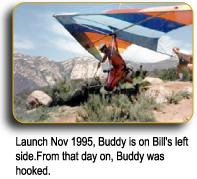 Only a few months later Buddy was physically placing himself in Bills way on the launch ramp making it nearly impossible for Bill to even take off. Bill recalls that he was just being such a pain in the butt, I just took him up with me one day. I figured he either would love it or would want no part of it ever again. From that day on, Buddy was hooked.
Luckily for Buddy, Bill has skillfully learned how to mend and create a lot of his gear on his own sewing machine in the 28 years he has been gliding. Bill made modifications to a hang gliding harness to create the perfect gear for Buddy. From cardboard, Bill fashioned a pattern complete with holes designed for Buddy's four-legged frame. Then he incorporated the design in nylon, complete with seat webbing and foam padding. The design is entirely secure. There is absolutely no way he can get himself out even if he did become agitated and try to flip himself out, Bill reassures.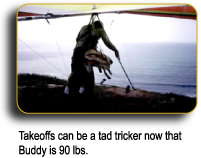 The matter of take-off is a tad trickier. Weighing in at 90 pounds, Buddy sometimes makes a cumbersome companion during take-off. It requires a lot of physical strength, Bill remarks. I dont just have to hold the glider, but have to hold Buddy up as well. Someone often helps launch Buddy to be sure that he is aligned correctly during lift-off. Bill adds that once were off the ground, well hang side-by-side for a while, but it usually isn't that long before Buddy climbs up onto my back. Pigs might not fly but it seems that piggybacked dogs do.
Buddy has a favorite place to fly, too. Torrey Pines, which is a San Diego city park about 30 minutes from their house, is Buddy's flight location of choice. The park features 300-foot cliffs, with best of all, a really smooth lift band- the air is glass Bill remarks. Buddy prefers this smooth sailing to the choppier wind current hang gliding that Bill sometimes does in the mountains closer to their home. Bill and Buddy are airborne anywhere from twenty to thirty minutes, wafting over cliffs dotted by million dollar San Diego homes.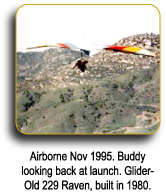 One might assume it is the celebrity star-gazing that brings Buddy to Torrey Pines, if it werent for the fact that Buddy is already a star in his own right. Featured in People magazine, a number of Animal Planet episodes, CNN, and on a game show on the Oxygen network, Buddy has handled his fame remarkably well. He doesnt have a big head about his abilities. After all, it might affect his flying. Instead, he shares his airtime with Bills fianc and a new addition to the family a year-old Labrador mix named Cody. When questioned as to whether Cody displays similar desires to fly, Bill laughs. I don't think so. Cody just doesnt have Buddys personality Buddy thinks hes a human with fur. Cody is, well, a great dog, but Cody knows he is a dog. Bills love for Labradors, and not just his own, is so apparent. Labradors are big and just really good dogs. They're not a four-legged lawsuit. he remarks.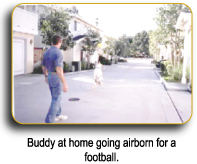 Bill and Buddy try to hang glide as often as they can, which tends to be about one to two times a week. Buddy can only hope to up his flying time as the summer months approach. After a long day of flying, our featured hang gliding Labrador, Buddy, takes it easy and conks out on his favorite couch with dreams of wafting through that ocean of blue beneath the warm San Diego sun.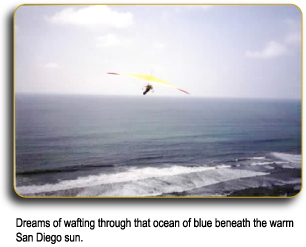 Click here to go back to Lab of the Month
Featured Article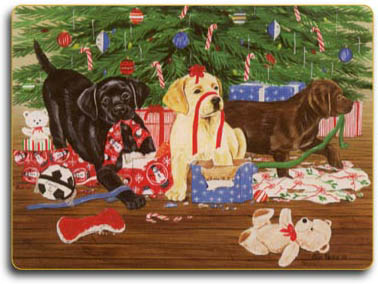 Can You Spot The Holiday Hazards?


It's easy for pets, especially Labradors, to get into trouble during the holidays. You may get
so
busy that you lose track of what is going on with your dog.
Click here to learn more about: "Can You Spot The Holiday Hazards?
"
Wanted: Models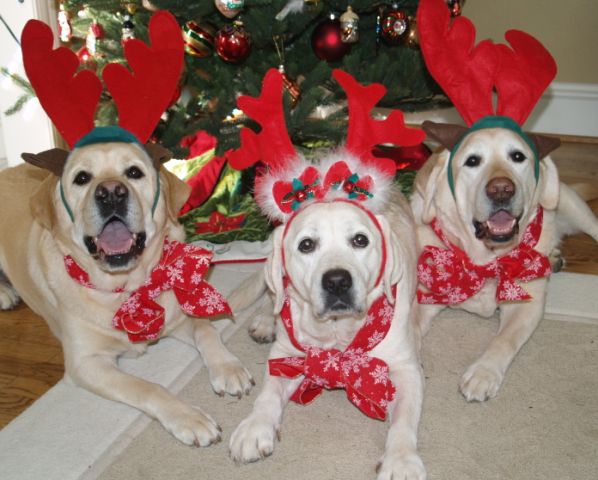 Would you like to see your Lab pictured here? Send us images of your Lab and we may include them on our Home Page!