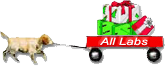 Make this your home for fetching the finest products and retrieving loads of valuable all Labrador Retriever information. Shop for the Lab, For the Lab Lover, For the Lab Home, and browse our Labrador Library to see why for the last 10 years we're
Your Leading Labrador Retriever Resource






Christmas Store

The holidays are just around the corner so now is the time to fetch the finest gifts for the Labrador Lover on your Christmas list. We have over 100 gifts $50.00 and under. Visit our Christmas Store.

For the Lab
Bedding
Coats
Collars and Leads
Dog Bowls
Feeding Stations
Spa and Grooming
Toys and Treats
Travel and Accessories

For the Lab Lover
Apparel
Cards and Giftwrap
Fine Accessories
Gifts and All Occasions
Jewelry
Kids Only

For the Lab Home
Artwork
Books
Garden and Outdoor
Home Furnishings
Kitchen Accessories
Pillows, Throws, and Rugs

Gift ServicesGift Boxes
Gift Certificates
Leaping into the Limelight with Runner the Yellow Lab


By Josh Hagy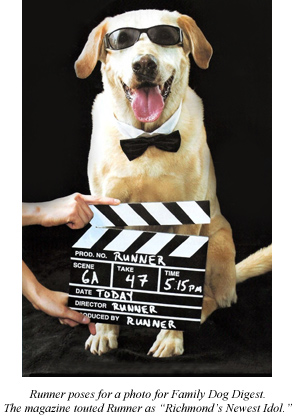 Some dogs are born to be stars. Others have stardom thrust upon them. Either way, Runner doesn't seem to mind. "The spotlight just sort of fell on us. I did not pursue it," said Donna Anderson, the owner of the nine-year-old yellow Lab. "Dog trainers around here know him well and what he can do and they referred folks to us." Those referrals would launch Runner's showbiz career and make him as famous as a local American Idol finalist.
Perhaps one of the most difficult aspects of show business is being "discovered" by the right people. Donna discovered this amazing Lab after becoming intrigued by a Search and Rescue demonstration in Richmond. "One day about 10 years ago I saw a Search and Rescue demo by a Richmond group and I was mightily impressed by the large yellow Lab that so handily pulled a 200 pound man out of a barrel lying on the ground," recalls Donna. "Part of the demo was to search for and save a man trapped in a situation, in this case a barrel. The man did not make it easy for the dog to pull him out. I was looking for a dog with a high work ethic to train for agility and this looked like the kind of dog for me."
Donna began to ask around about breeders, and it was there she first heard the name Marge Samuels of Amber Run Kennels in Jetersville Virginia. "They breed and hunt dogs in field trials. These are real working dogs. I called them and they had a litter almost ready to go." Donna made the trip to Jetersville to check out the litter in hopes of finding a Lab that was a perfect fit for her.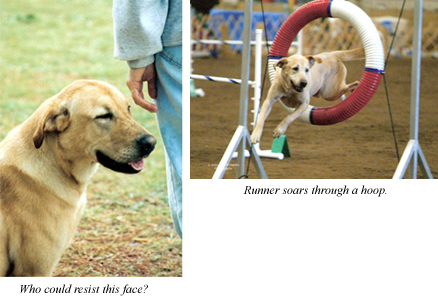 She was looking for some very specific attributes in her Lab. "I wanted a Lab with a narrower body style so he would be lighter weight and not put so much strain on his joints for all the jumping I was going to want him to do and not the big full chest of the father. So I closed my eyes and felt for the male pup with the smallest neck/chest area. I already knew all the pups were quite retrieving driven."
Ironically, one pup's affinity for Donna's shoe laces proved to be deciding factor. "Two pups seemed to be quite equal in the neck area so I observed them some more and decided against the one that could not seem to let go of my shoe laces. Runner was the other one. His real name is Amber Run's Peak Performer a.k.a. Runner."
While Runner has appeared in the Richmond Times Dispatch and has come to love the camera, the versatile Lab's talents extender further than just showbiz. "Runner not only is an AKC Master Agility Champion but in 1992 he was in the top 10 for AKC jumpers," added Donna. "He is also regarded as one of the fastest Labs in the U.S. and is listed on a web site as such. He has won more than 50 first placements in agility, running against some of the fastest Border Collies."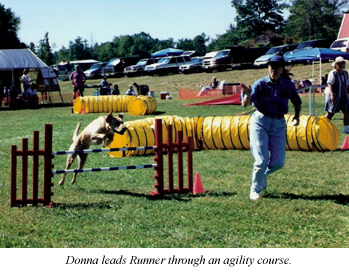 Not one to let all that energy and agility go to waste, Runner has been known to do a little two-step. "Runner also is a 'Dancing Dog,'" added Donna. "He did not take regular Obedience classes as a pup but I put him in a Canine Freestyle Class for about 1.5 years. He has a wonderful dance routine to the song "Happy Boys and Happy Girls" by AQUA."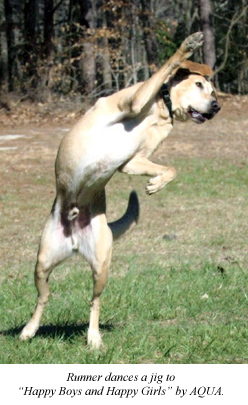 Runner has also, hunted, tracked, trained through AKC Utility Obedience, and though he hasn't competed, he has trained in Flyball, and trained in service dog skills. "He's a pretty good Frisbee player too," she added. Like everything else, though, stardom takes hard work. "You have to start young. Runner was 8 weeks old," explained Donna. "Use positive reinforcement methods, i.e., clicker training, and practice, practice, practice."
The attitude of the dog is a major factor in the success of the training and Donna found herself blessed with a Lab that loved to work. "It helps to have a workaholic. Runner needs to work and is unhappy just lounging around. He loves to work and learn and train and is happiest doing so." She shared that the most valuable behaviors to teach a dog for this type of work are "stay" (sit, down, stand) at a distance, targeting, come, and retrieve work including "hold." And added, "Believe it or not competition style heel is almost useless, hardly ever needed, most of the time they want a dog to act like a normal dog out for a walk and pull on the leash, but not pull too hard."
Has all the fame gone to Runner's head? Well, maybe just a little. "He is a ham and loves to show off. He is 9 years old and people still think he is a puppy because of the excitement he shows when working," said Donna. That exuberance, however, makes for one happy and intelligent Lab. "He could probably be taught just about anything in a very short amount of time he is so quick to pick up new behaviors. Everyone that meets him loves him and makes converts of cat people and dog haters." After all, who could resist a superstar Lab like Runner?
Click here to go back to Lab of the Month
Featured Article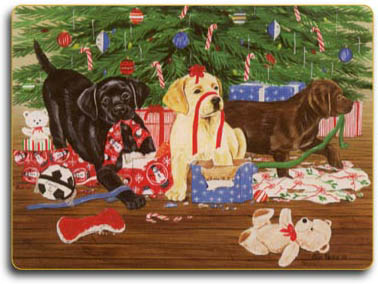 Can You Spot The Holiday Hazards?


It's easy for pets, especially Labradors, to get into trouble during the holidays. You may get
so
busy that you lose track of what is going on with your dog.
Click here to learn more about: "Can You Spot The Holiday Hazards?
"
Wanted: Models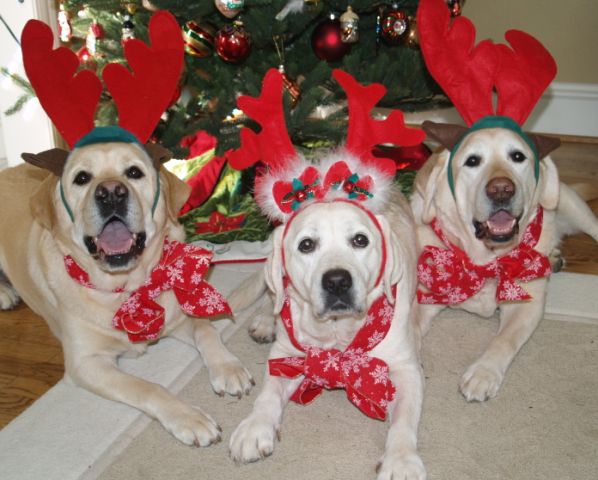 Would you like to see your Lab pictured here? Send us images of your Lab and we may include them on our Home Page!