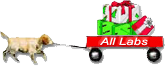 Make this your home for fetching the finest products and retrieving loads of valuable all Labrador Retriever information. Shop for the Lab, For the Lab Lover, For the Lab Home, and browse our Labrador Library to see why for the last 10 years we're
Your Leading Labrador Retriever Resource






Christmas Store

The holidays are just around the corner so now is the time to fetch the finest gifts for the Labrador Lover on your Christmas list. We have over 100 gifts $50.00 and under. Visit our Christmas Store.

For the Lab
Bedding
Coats
Collars and Leads
Dog Bowls
Feeding Stations
Spa and Grooming
Toys and Treats
Travel and Accessories

For the Lab Lover
Apparel
Cards and Giftwrap
Fine Accessories
Gifts and All Occasions
Jewelry
Kids Only

For the Lab Home
Artwork
Books
Garden and Outdoor
Home Furnishings
Kitchen Accessories
Pillows, Throws, and Rugs

Gift ServicesGift Boxes
Gift Certificates
Savannah, Super Retriever
By Regan Michelle White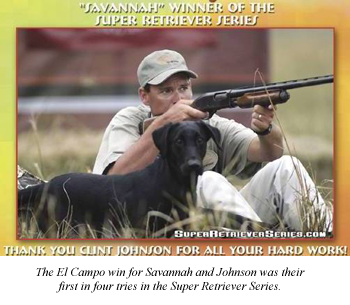 With the airing of the Super Retriever Series on ESPN 2 beginning in April, be sure to keep your eyes on the petite frame of six-year-old black Lab, Savannah. Savannah, or HRCH South Ridge's Cache River Queen MH nabbed first place in the ESPN Super Retriever Series in El Campo, Texas October 2004. Despite her comparatively small size, her win was no small feat.
The ESPN Super Retriever Series matches top field trial dogs and hunting dogs from across the country. All breeds can compete, but Labs are by and large the most numerous. In the competition, dogs must find and retrieve thrown or placed targets from varying distances and assorted angles and the targets may be visible or hidden. Distances can be up to 400 yards. The competition is on marked and blind retrieves. On marked retrieves, the dog sees the simulated bird fall and then goes after it on the handler's command. On blind retrieves, the target is hidden and the dog has to work entirely from the handler's commands and signals.
The conditions, both environmentally and competitively, in the El Campo competition made for a difficult challenge. Savannah and owner/handler Clint Johnson walked away not only with first place, but also as the only team able to complete the test laid out in El Paso's finals. Strong winds that obscured handler commands and blistering ninety-degree heat plagued the three-day competition. A rigorous course was created for the final that had even the judges wondering aloud if it was too difficult.
The test was set in a pasture that had a small ditch crossing it, with the ditch draining into a narrow slough with brushy vegetation all around it. The dogs were required to make six retrieves, including four marks and two blind retrieves. The first mark, which was the downfall for every dog but Savannah, was shot from the slough sailing away from the dog/handler teams. It landed more than 200 yards from the starting line and beyond the slough, which obscured the line of sight between handler and dogs. The other three marks sailed left to right simultaneously and landed in a spread of goose and duck decoys right in front of the line. While Savannah retrieved marks two, three and four in the same order as the other dogs in the final, it was her finding of the first mark that cleared the way for her to win without comparison. "She got a good look at it," Johnson said. "If you didn't get a good look at it, you were toast." While Savannah saw the bird fall, Johnson also swayed from his normal handling strategy to ensure that she found the mark. "It's the first time I've ever just turned her loose and let her go," he said. "I said a little prayer and gave the cast. I couldn't see her, but I knew she could see me … She trusted me completely. She knew I was going to get her to that long bird."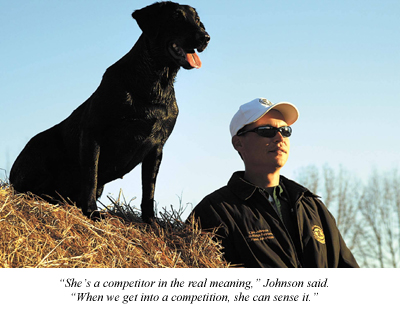 It is this sort of trust that has bonded Clint and Savannah from the beginning. Johnson's wife Shawnna recounted, "When Clint decided to buy her, he told me to look into her eyes. He promised me that they would do great work together." And so it has been. Johnson bought Savannah when she was about a year old; she's a product of his stud dog. Johnson said of Savannah, "She has tremendous heart and desire, and she is very obedient." She is shorter and lighter than the average Lab that waterfowlers use extensively and while this sometimes serves as a disadvantage in tall cover, such was not a problem in El Campo. Shawnna Johnson attested that, "The easiest part is her desire to work and to win. It's her drive and her love for the game. She's more successful because she knows she's trying to win and striving to be the best and play the game."
Savannah trains day in and day out with Clint and the other 26 dogs that he has in training in El Paso, Arkansas. They work on everything from advanced water work and handling, to advanced marking and drills, from sunup to sundown. Clint receives a lot of help from Shawnna and their five-year-old daughter, Christen. "She can train a dog almost as well as most adults," Shawnna says of her daughter. "They mind her and she has a natural love for them." She added, "It's our life. 24-7 it's dogs. It keeps us together as a family and we couldn't imagine a life without it."
The 26 other dogs in training with Clint are from all over the country and all are being trained to perform to their ability and what they are needed for, be it hunt tests, game dogs and everything in between. Of course, everyone strives for a Super Retriever winner like Savannah. "Dogs like Savannah take years and years of experience," Shawnna said. "She's confident when she's working out there and that's what makes her a winner."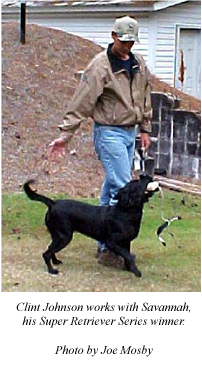 For the past 11 years, Clint has been training retrievers full time and Savannah lends her hand helping out especially with the training of younger dogs. "She really takes them under her wing," Shawnna describes. "She does work that you can't do out there." If she's not retrieving or showing young dogs the ropes, Savannah is sleeping or playing with Christen. "She is amazing … and we love her so much. She is a member of our family," Shawnna said. About Labs she added, "I love them. I will have a Lab until the day I die."
Looking ahead, Savannah and the rest of the Clint Johnson Retrievers have a lot to be training for. Still to come in the Super Retriever Series is a competition at Middleburg, VA. in April and one at Stuttgart, AR in May. The top three dogs from each of these will be matched in the championship at Hot Springs, AR. in June, where they will come up against the quick and formidable Savannah. "None of this would have been possible without the support of our clients. Their encouragement and belief in the business have made it possible," Shawnna attested. "Just before the Series in October so many people called Clint just to tell him that they were pulling for him and Savannah or that they were thinking of him or sending prayers out for them. It has made all the difference." A winning difference for Super Retriever, Savannah.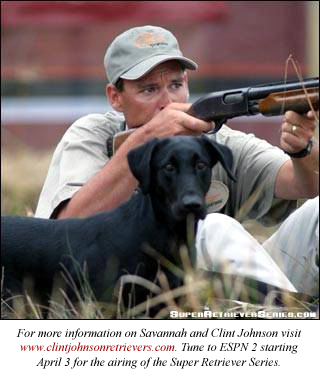 Click here to go back to Lab of the Month
Featured Article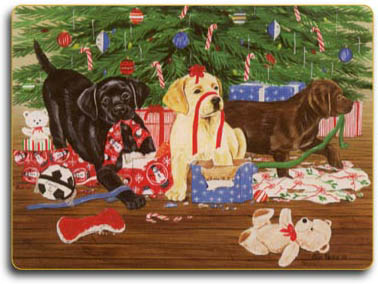 Can You Spot The Holiday Hazards?


It's easy for pets, especially Labradors, to get into trouble during the holidays. You may get
so
busy that you lose track of what is going on with your dog.
Click here to learn more about: "Can You Spot The Holiday Hazards?
"
Wanted: Models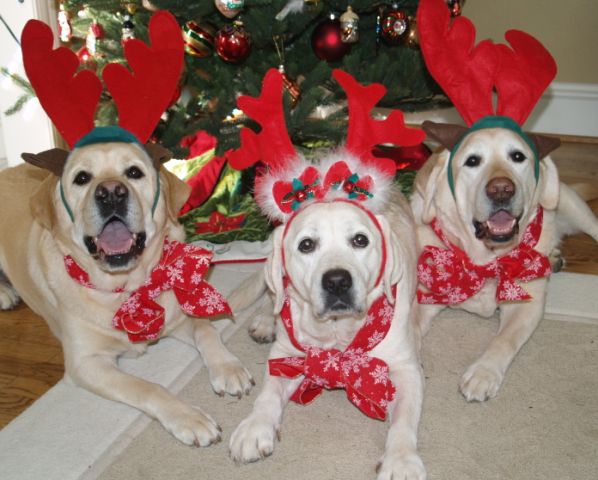 Would you like to see your Lab pictured here? Send us images of your Lab and we may include them on our Home Page!