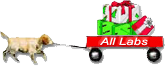 Make this your home for fetching the finest products and retrieving loads of valuable all Labrador Retriever information. Shop for the Lab, For the Lab Lover, For the Lab Home, and browse our Labrador Library to see why for the last 10 years we're
Your Leading Labrador Retriever Resource






Christmas Store

The holidays are just around the corner so now is the time to fetch the finest gifts for the Labrador Lover on your Christmas list. We have over 100 gifts $50.00 and under. Visit our Christmas Store.

For the Lab
Bedding
Coats
Collars and Leads
Dog Bowls
Feeding Stations
Spa and Grooming
Toys and Treats
Travel and Accessories

For the Lab Lover
Apparel
Cards and Giftwrap
Fine Accessories
Gifts and All Occasions
Jewelry
Kids Only

For the Lab Home
Artwork
Books
Garden and Outdoor
Home Furnishings
Kitchen Accessories
Pillows, Throws, and Rugs

Gift ServicesGift Boxes
Gift Certificates
Whale of a Tail: Meet Tucker the Scat Tracker


By Josh Hagy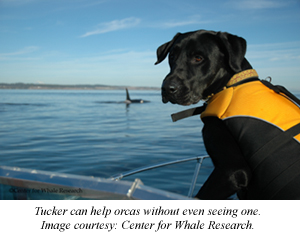 For most dogs, a good retrieve is a simple one. A stick, a pair of slippers or a rolled up newspaper are ideal items for the average Lab. But Tucker, however, is no ordinary Lab. Tucker is a scat detection dog who specializes in tracking a surprising species: killer whales. Tucker's tracking skills are being put to good use by the Center for Conservation Biology of the University of Washington in Puget Sound to study the effects of stress on orcas.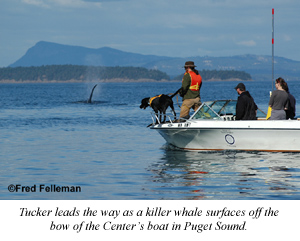 The study itself is being conducted by Dr. Sam Wasser and his graduate student, Katherine Ayres. "She is looking at the relation between depleted food, toxins and boat traffic on killer whale morbidity and mortality," explains Sam. "Basically, the idea we're testing is depleted food causes individuals to burn fat, which releases more PCBs and other fat stored toxins into circulation, impacting physiological health. Boat traffic compounds this by increasing stress and making it harder to catch salmon." Naturally, since orcas are marine mammals, they can be a bit difficult to study. That's where Tucker comes in.
Tucker is a scat detection dog, which means he tracks animals by their feces. Not only is this versatile Lab able to track orcas, but he's also certified on moose, caribou and wolf scat and is also trained to detect scat of a wolverine. Tucker's work is quite impressive, considering that a doggie paddle won't quite keep pace with an orca. "We take a boat out into the Sound," said Heath Smith, the lead dog handler on the study, "he kind of roams about in the front of the boat until he detects the scat." Once Tucker has the scent, the boat driver weaves a kind of search pattern through the water as Heath watches Tucker closely. "You'll see his body change stance when he detects. I signal back to the boat driver as I watch Tucker and we work our way to the scat." As one can imagine, training a Lab to detect orca scat is not the easiest of tasks, but it was a challenge that Tucker and the crew from the Center were more than able to meet.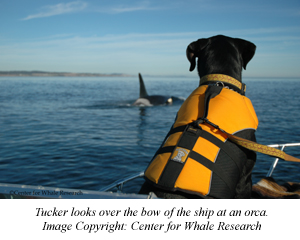 The Center acquired Tucker from SnoLine Kennels, where he was being fostered from a shelter that found him too hyper for placement with a family. "Tucker came to us because he was just a little too crazy," Heath recalls with a laugh. "The narcotics program had already turned him down because they were afraid he had bad hips, but he's done great here." The Center was looking for Labs who are extremely hyper and fixated on balls and other objects. In fact, the Center had attempted to use other dogs prior to Tucker and quickly discovered they were more interested in playing in the water than actually working. "Tucker is a unique Lab because he's afraid of the water. It works great for us though, because the other dogs weren't interested in finding the scat as much as playing in the water." Once Tucker proved his interest in the work, training began in earnest.
To train Tucker, samples of orca scat were needed. The Center was able to find scat in Puget Sound as well as have some shipped from Sea World. With samples in hand, Heath took Tucker out into the field to start with the basics. "The first thing we did was put him in a field situation and get him used to finding the odor. From there we took him out in a canoe in a little inlet and two of us hold the canoe and one of us would be in there with him. The scat would be floating on a piece of Styrofoam and we'd take him around that." The next step was to move the training to Lake Union, where a small Boston Whaler was used to get Tucker more accustomed to being out on the water. The next step was to set out on Puget Sound itself, where the study quickly got underway.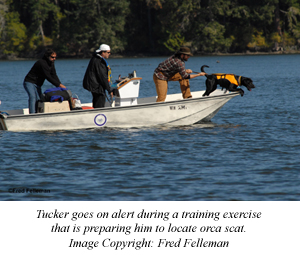 Though there are three other Labs working with the Center, Tucker quickly proved to be worth his weight in gold during the study. "We found 30 samples last year in 10 days," said Heath. Interestingly enough, the researchers aren't actually as interested in the pods of orcas that they track as in the scat they leave behind. "Our objective is to have as little impact on the whales as possible by using Tucker we are able to keep a greater distance from the whales and detect when scat is present. Tucker actually has no interest in the whales and simply wants to play ball, which is his reward for finding the scat." Once the scat is located, thanks to Tucker, the samples are then taken to the lab to be tested.
Researchers at the Center measure thyroid hormones and glucocorticoid (stress) hormones found in the scat, as well as reproductive steroids and persistent toxins such as PCBs. By studying the results of these measurements, researchers can then determine how much of an impact food scarcity and boat traffic is having on the killer whale population. It is important to note that the methods used by the Center to collect and analyze the scat are noninvasive and therefore not harmful to the orcas that are being studied. The study itself, however, would not function as well without a Lab like Tucker.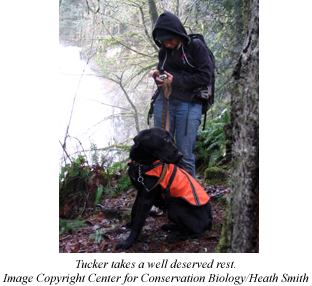 "Tucker is a great dog," says Heath. "He's great around people and other dogs. Oddly enough, he actually pays no attention to the whales. It's like he's doesn't even know that they're there." Whether he knows they are there or not, Tucker is more than doing his share to see that these beautiful animals are protected and preserved. Well done Tucker!
For more information on The Center for Conservation Biology, including further details on their scat dog detection program and other research, log onto
http://depts.washington.edu/conserv/Introduction.html
Click here to go back to Lab of the Month
Featured Article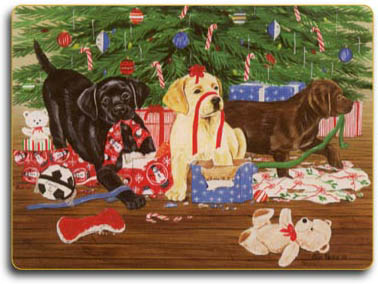 Can You Spot The Holiday Hazards?


It's easy for pets, especially Labradors, to get into trouble during the holidays. You may get
so
busy that you lose track of what is going on with your dog.
Click here to learn more about: "Can You Spot The Holiday Hazards?
"
Wanted: Models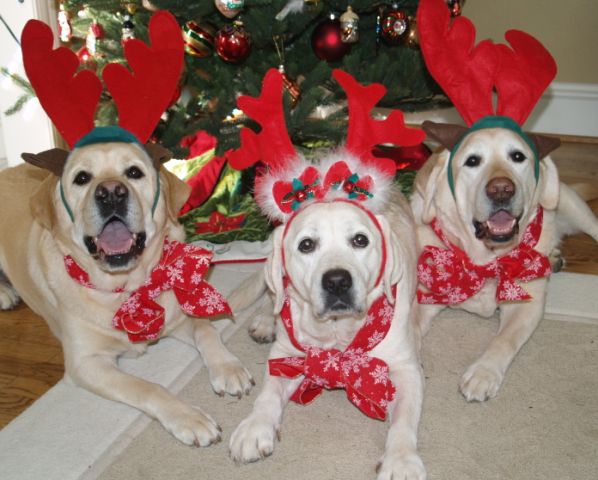 Would you like to see your Lab pictured here? Send us images of your Lab and we may include them on our Home Page!